Western States One Stop Shop for Rural Traveler Information - Research on Clarus System Data
ONE STOP SHOP HOME | CONTACTS | UPDATE | ARCHIVED UPDATES | DOCUMENTS
The Western States One-Stop Shop for Rural Traveler Information - Research on Clarus System Data project seeks to develop a website displaying multi-state Clarus Environmental Sensor System (ESS) data, along with other information streams as available, such as DOT Intelligent Transportation System (ITS) field elements, CCTV, planned and active closures, incidents, weather sensor readings from non-DOT sources, National Weather Service forecast information, etc. The objective of this project is to integrate these real-time data streams together in a single web-based location and in a user-friendly format. The work would build upon the previously cited efforts, particularly the Caltrans One Stop Shop for Rural Traveler Information project, which have laid the technological foundations for how such information is acquired and displayed. The region covered will include the Western States Rural Transportation Consortium (WSRTC) region of California, Oregon, Washington and Nevada. The developed product will display weather and other traveler information for this region in a manner that would be easily accessed and understood by users. As a result of this work, the use and presentation of Clarus data across multiple states in conjunction with other traveler information streams will be demonstrated by providing travelers and agency personnel with a useful planning and management mechanism.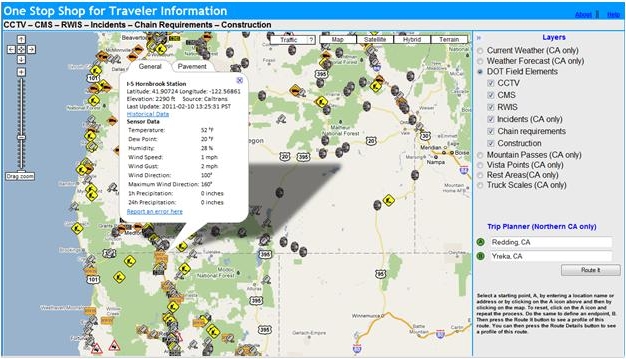 Project Tasks
System Concept - document at a high level the "vision" for the system, including general functionality as related to identified stakeholder groups, as well as the anticipated technical system details. (Completed December, 2010)
Requirements – Development of a document that translates the system concept/concept of operations into a series of statements describing what the system shall do, and will indicate what optional features may be added if time and budget permit. (Completed January, 2011)
Design and Development – Development of a document that indicates how the various components of the system will be implemented. Development of the system including the web interface and the backend components – data retrieval, storage and dissemination.
Evaluation/User Survey - Survey of a sample of users for feedback and comment regarding various aspects of the website, including appearance, functionality, performance, etc., suggestions regarding improvements and enhancements, and anticipated uses of such a website in relation to trip planning.
Final Report - A report discussing the project methodology, results and the tool/website that was developed.
Check back soon for more Clarus OSS updates.
---
---
UPDATE: Wednesday, February 16th, 2011
The System Concept and Requirements documents have been completed by the research team and reviewed by the sponsor. The System Concept (Final) may be viewed here, and the Requirements document (Final) can be viewed here.
Present research activities include development of the Technical Memorandum of System Design and initial website development.
---
Project Manager:

Roemer Alfelor
Road Weather Management Program
Office of Transportation Operations (HOTO)
Federal Highway Administration (FHWA)
U.S. Department of Transportation
Mail Stop: E86-205
1200 New Jersey Avenue, SE
Washington, D.C. 20590
202-366-9242
202-366-3225 (fax)
Roemer.Alfelor "at" dot.gov
http://ops.fhwa.dot.gov/weather/index.asp
http://www.fhwa.dot.gov/

Caltrans Project Manager:

Sean Campbell, P.E.
Chief, ITS Special Projects Branch
Caltrans, Division of Research, Innovation,
and System Information
1227 O Street, PO Box 942873
Sacramento, CA 94273-0001
(916) 654-8868
(916) 657-4580 (fax)
sean_campbell "at" dot.ca.gov
www.dot.ca.gov/newtech/

Caltrans Contact
Caltrans Rural Program Steering Committee Chairman:

Ian Turnbull, P.E.
Chief, Office of ITS Engineering and Support
Caltrans District 2
1657 Riverside Drive
Redding, CA 96001
(530) 225-3320
(530) 225-3299 (fax)
ian_turnbull "at" dot.ca.gov
www.dot.ca.gov/dist2/

Oregon DOT Contact:

Galen McGill, P.E.
ITS Manager
Oregon Department of Transportation
355 Capitol St. N.E.
Salem, OR 97301-3871
503-986-4486
503-986-3055 (fax)
Galen.E.MCGILL "at" odot.state.or.us
http://www.oregon.gov/ODOT/HWY/ITS/

Washington State DOT Contact:

Ted Bailey
Signals, Illumination & ITS Engineer
Washington State Department of Transportation
PO Box 47344
310 Maple Park Avenue SE
Olympia, WA 98504
(360) 705-7286
(360) 705-6826 (fax)
BaileyTe "at" wsdot.wa.gov
http://www.wsdot.wa.gov/Operations/Traffic/

Nevada DOT Contact:

Denise Inda
Assistant Chief Operations Engineer
Nevada Department of Transportation
1263 So. Stewart Street
Carson City, NV 89712
(775) 888-7560
(775) 888-7211 (fax)
dinda "at" dot.state.nv.us
http://www.nevadadot.com/

WTI Principal Investigator:

Douglas Galarus
Program Manager
Systems Engineering, Development & Integration
Western Transportation Institute (WTI)
Montana State University - Bozeman
PO Box 174250
Bozeman, MT 59717-4250
(406) 994-5268
(406) 994-1697 (fax)
dgalarus "at" montana.edu
www.westerntransportationinstitute.org

WTI Co-Principal Investigator:

David Veneziano
Research Scientist
Safety and Operations
Western Transportation Institute (WTI)
Montana State University
PO Box 174250
Bozeman, MT 59717-4250
(406) 994-6320
(406) 994-1697 (fax)
david.veneziano "at" montana.edu
www.westerntransportationinstitute.org
---