One Stop Shop (OSS) Update - January 18th, 2012 - Part 4
---
UPDATE: Wednesday, January 18th, 2012 - Part 4
In this fourth update for today we emphasize the need to look carefully at all information available when traveling under winter conditions, since conditions can change quickly with both time and location.
Here's a CMS Message Indicating Icy Roads Near Mt. Shasta on 1/18/2012. This isn't surprising considering the weather we've seen in the Western States region today.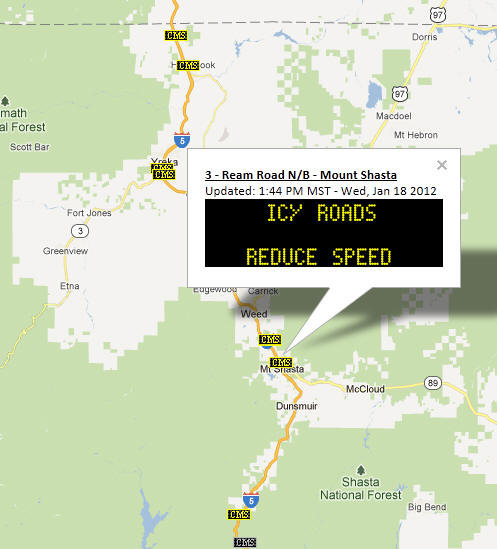 Notice that there are other CMS with active messages in this area. At first, you might think that they all indicate the same or similar winter conditions. However, the next on to the north shows a different message a wind advisory from Weed to Yreka: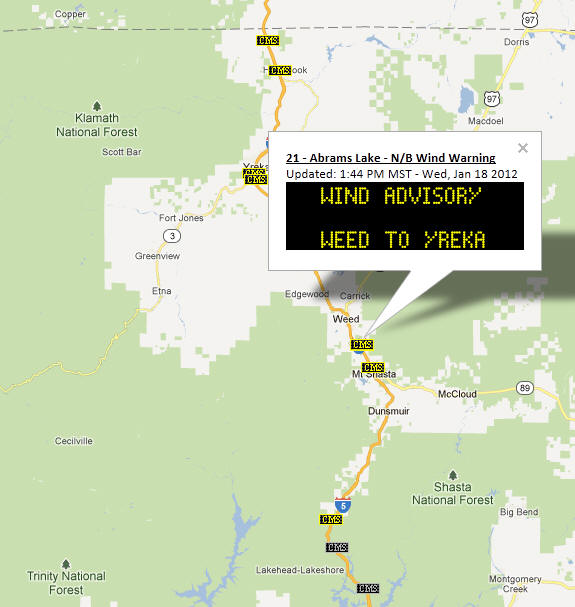 The wind gust forecast shows further detail, including along I-5 between Weed and Yreka. Notice further that although the arrow icons provide good information, they don't provide complete information. The raster image shows orange/red in the area between Weed and Yreka, although there are some arrows in proximity indicating lesser wind speeds. We can't show arrows at every point and that's the reason we show the raster graphic beneath the arrows. You see further detail in the raster: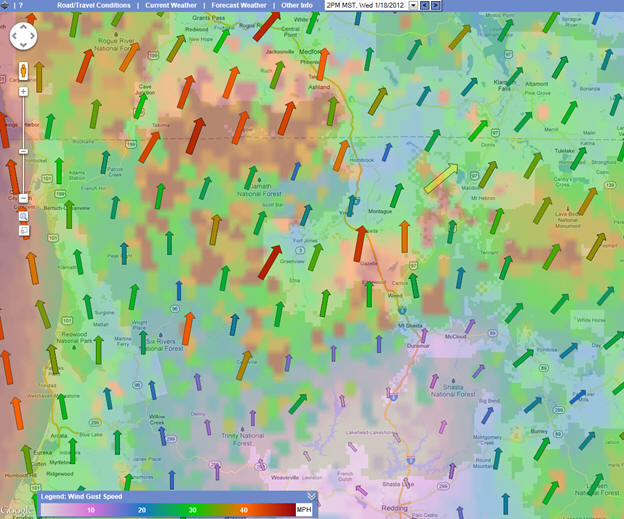 We can also look at wind sensors in this area to view current readings. Sure enough, there are high winds, in the 25-35 mph range. Note that compared to the forecast display, information is somewhat sparse here since there are a limited number of sensors in this area. It is important to note that you should look at all information available prior to and during trips in winter conditions.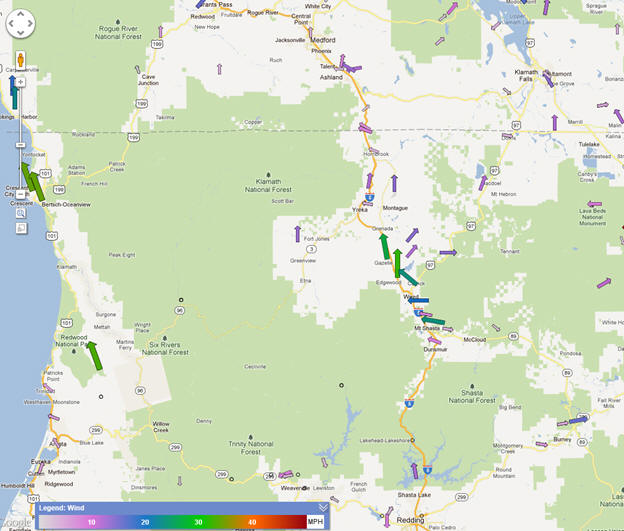 Again, be sure to take a look at multiple OSS updates from today, take a look OSS live at http://oss.weathershare.org/, and, gather as much information as possible from OSS and all available sources both before and while traveling to help plan for safe trips.
Updates from today:
One Stop Shop (OSS) Update - January 18th, 2012 - Part 1
One Stop Shop (OSS) Update - January 18th, 2012 - Part 2
One Stop Shop (OSS) Update - January 18th, 2012 - Part 3
One Stop Shop (OSS) Update - January 18th, 2012 - Part 4 (above)
---