One Stop Shop (OSS) Update - September 18th, 2014
---
UPDATE: Thursday, September 18th, 2014
At the 2014 ITS World Congress in Detroit, Michigan, the One-Stop Shop was announced as the winner of ITS America's Best of ITS Award for Best New Innovative Practice – Research Design and Innovation. ITS America presents these awards to "the most prominent and innovative transportation technology leaders in the Americas" whose projects exemplify innovation and demonstrate specific and measurable outcomes. The OSS project is sponsored by the California Department of Transportation (Caltrans), who nominated it for the annual award.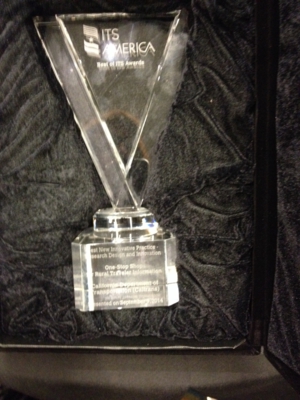 Photo by Caltrans
OSS provides travelers in California, Oregon, Washington and Nevada with access to a variety of route-oriented, real-time and near real-time traveler information in a single website location. The OSS provides travelers with current road information that does not stop at jurisdictional boundaries. Combined with real-time weather information, the OSS provides motorists with a seamless decision-making tool for maintaining and enhancing traveler safety and mobility. In operation since 2011, OSS is recognized as a pioneering effort, and was the first modern, web-based, multi-state traveler information portal of its kind in the Western United States.
"The OSS team has produced a world-class system that has a unique approach to solving multiple complex problems in the aggregation and delivery of traveler information. Through a strong technical team, partnerships and a steady vision, the OSS platform is the definitive answer to rural traveler information in the western United States." -Sean Campbell, Chief, ITS Special Projects Branch, Caltrans Division of Research, Innovation, and System Information
The Automated Safety Warning System Controller (ASWSC) project was also a finalist in the Best New Innovative Practice – Rural ITS Project category. See the September 18, 2014, Controller Project update.
"I give full credit for these Systems to our partners at Caltrans. They envisioned the ASWSC and OSS and set us up for successful development and implementation. This was critical to making these systems work properly, and to ensure and enhance the safety of the traveling public. We're honored and appreciative that Caltrans nominated these projects for these prestigious ITS America awards. Recognition for the One-Stop-Shop as a National "Best of ITS" Winner is a pleasant surprise and a welcome honor for the hard work of all involved! Thanks go to Dan Richter, David Veneziano, Leann Koon and other staff at WTI for their hard work on these projects." -Doug Galarus, Senior Research Scientist and Program Manager, Systems Engineering, Integration and Development Program, Western Transportation Institute, Montana State University
The One-Stop-Shop and Automated Safety Warning System Controller are collaborative efforts between the Caltrans Division of Research, Innovation, and System Information, Caltrans District 2, the Western Transportation Institute, and the Western States Rural Transportation Consortium.
The ITS World Congress newsletter, Dailynews, officially announced the winners and finalists for the Best of ITS Awards: World Congress rewards outstanding ITS.
Caltrans and Montana State University both published press releases about the awards.
Caltrans: Caltrans presented with National Award at World Congress on Intelligent Transport Systems in Detroit.
Montana State University: WTI project wins award for intelligent transportation technology.
The California State Transportation Agency Secretary Brian Kelly also issued a statement about the awards: Secretary Kelly Issues Statement on Caltrans "Intelligent Transportation Society of America" Awards.
Take a look at the OSS website at http://oss.weathershare.org/.
---