WSRTC Update - August 5th, 2011
---
UPDATE: Friday, August 5th, 2011
On June 14th, 2011, the Western States Rural Transportation Consortium held the first of its three annual Steering Committee meetings just prior to the Western States Forum. Representatives from California, Oregon, Nevada, and Washington state departments of transportation participated, along with a Federal Highway Administration representative and researchers from the Western Transportation Institute at Montana State University.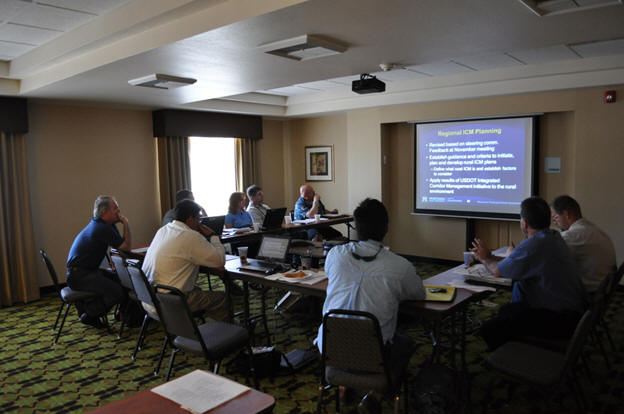 Photo by Doug Galarus
In order to achieve the mission and vision of the Consortium, many of its activities are focused on technology transfer and education. The meeting opened with a roundtable discussion highlighting ITS projects each of the member organizations are working on or had recently deployed. Further detail can be found in the meeting minutes.
After the meeting and in conjunction with the Western States Rural Transportation Technology Implementers Forum, Consortium members demonstrated practical applications of ITS technologies. Here, Consortium Steering Committee member Sean Campbell (center) demonstrates a remote power controller to John Castro (left) and Stan Slavin (front). Dean Campbell, Phil Graham, and Steering Committee member John Carson also examine an information processor and associated software.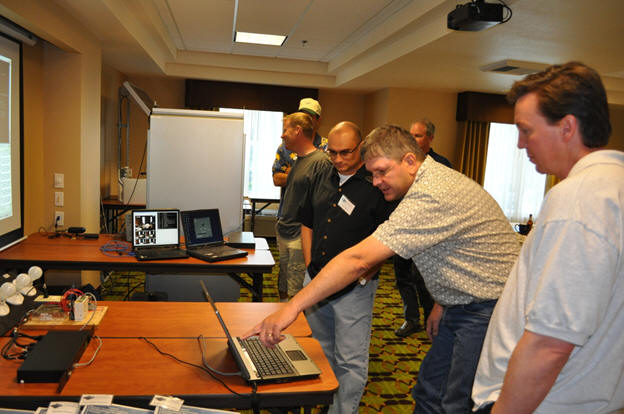 Photo by Doug Galarus
Sean Campbell, Caltrans, Ted Bailey, WSDOT, and Doug Galarus, WTI, reported on the general status of the Consortium, including reviewing the contract agreement and status of funds for the pooled fund's first task order that was recently executed and an update on travel funding and procedures.
Doug Galarus gave an overview and update on the Clarus One Stop Shop (OSS) website project. Once the website is completed, the challenge will be to publicize it and gather public comment. The group discussed the Clarus quality control flags, dedicated travel time signs, micro-climate forecasting, vista point data, and camera images. Sean Campbell indicated that OSS was shown at a recent division chief meeting and people were very interested in its possibilities.
To read more about the Western States One Stop Shop for Rural Traveler Information – Research on Clarus System Data project click here.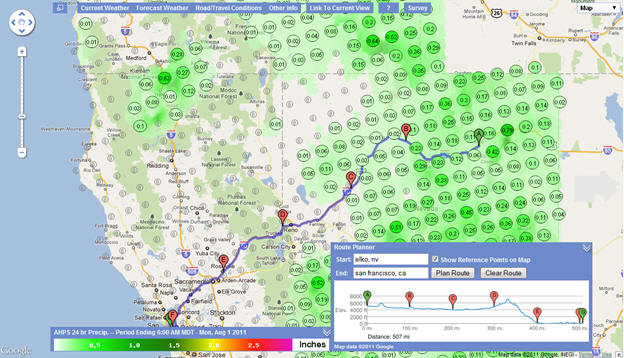 Screenshot by Doug Galarus
David Veneziano gave a quick update on the planned Year 1 incubator projects and their status. David and Doug discussed the results of the Fredonyer Summit Icy Curve Warning System (ICWS) and the Rural Deployment Assistance projects.
Click here to view the presentation from the meeting including slides for Clarus OSS, Year 1 incubator projects, COATS 4 project updates, the Rural Deployment Assistance task, and the Fredonyer ICWS.
The meeting concluded with a brief discussion of future meetings and agenda items. The next Steering Committee meeting for the Western States Rural Transportation Consortium will be held in conjunction with the upcoming National Rural ITS Conference in Coeur d'Alene, Idaho, August 28-31, 2011.
---