---
The concept for the Western States Forum originated through the rural California/Oregon Advanced Transportation Systems (COATS) partnership. This partnership, initiated in 1998 by the California and Oregon Departments of Transportation with support from the Western Transportation Institute at Montana State University, has sought to advance the implementation of intelligent transportation systems (ITS) to meet transportation challenges in rural areas. Over the last two decades, the COATS partnership has increasingly focused on technology transfer and the Forum has developed and grown with this purpose.
The inaugural Forum was held in 2006 in Mount Shasta, California, with 15 engineers and technicians from three states in attendance. The Forum has grown and expanded since then reaching an attendance milestone in 2019 with 53 participants. The audience is diverse too. Over the past fourteen Forums, participants have come from eleven western and central states (Alaska, California, Idaho, Montana, Nevada, Oregon, Texas, Utah, Washington, Wisconsin, and Wyoming), the U.S. Department of Transportation (DOT), nine state DOTs, ten universities, multiple municipal transportation departments, the Idaho National Laboratory, the Southwest Research Institute, the California Highway Patrol, the California Department of Water Resources, all twelve Caltrans districts, and multiple offices and divisions within Caltrans.
The agenda has also evolved since the first Forum. Starting in 2008, hands-on demonstrations were incorporated into a second day of technical presentations. Live demonstrations have been very well-received and are now formally solicited through the Call for Abstracts as an integral part of the Forum agenda.
After four phases of COATS spanning 12 years, the Steering Committee determined that it was in the best interest of the project to broaden its area of service to the western United States. To address this intent, the Western States Rural Transportation Consortium (WSRTC) was formed with the following purpose:
To promote innovative partnerships, technologies and educational opportunities to facilitate and enhance safe, seamless rural travel throughout the western United States; and
To provide a collaborative mechanism to leverage research activities in a coordinated manner to respond to rural transportation issues among western states related to technology, operations and safety.
The Western States Forum continues with the support of the Western States Rural Transportation Consortium.
In 2012, the Western States Forum was recognized with a Best of Rural ITS Award at the annual National Rural ITS Conference. The Forum won for Best New Innovative Product, Service or Application.
Here's a brief look at the event over the years:
The first annual Forum was held in 2006 in Mount Shasta, California, and 15 engineers and technicians from 3 states attended.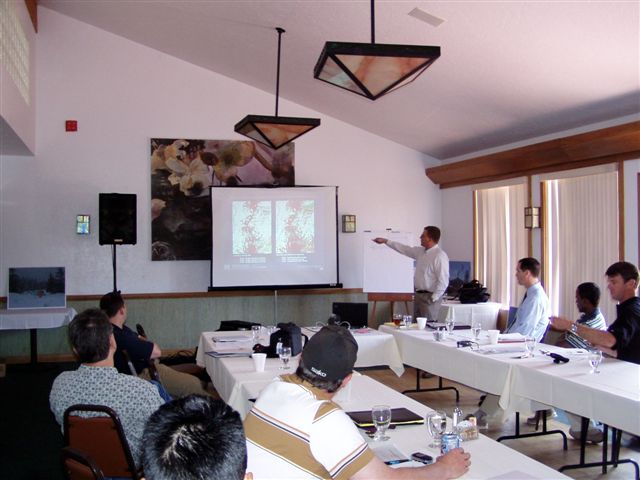 Thirty-eight (38) individuals from six states participated in the 5th annual Forum in Yreka, California.

The 10th annual Forum was also in Yreka, CA. Thirty-nine (39) pracitioners from 8 different states attended.

The 14th Forum in Yreka saw a record 53 participants from 8 different western and central states.

---