Western States Rural Transportation Technology Implementers Forum (WSRTTIF)
OVERVIEW | HISTORY | CONTACTS | UPDATE | ARCHIVED UPDATES | WSRTTIF WEBSITE | FACT SHEET | IMPLEMENTATION | IMPACT
What does it take to make Rural ITS work? It takes technical excellence across a variety of skill areas. It takes creativity. It also helps to learn from the experiences of others. The challenges in making Rural ITS work are significant. Therefore, it's important for ITS technology practitioners to be able to meet in order to share what they've learned and help advance the state-of-the-practice.

Starting in 2006, the Western States Rural Transportation Technology Implementers Forum has provided ITS implementers and engineers from the western states region with valuable opportunities for detailed dialogue about some innovative engineering and communications projects designed to support the rural transportation system. The Forum is valuable, not only for the detailed and knowledgeable presentations and demonstrations, but also for the times outside of sessions where participants can network with their peers from other districts and states.

The Western States Forum is unique. Speakers are given an extended amount of time to really delve into the nuts and bolts of how a project works, whether it relates to equations, source code, component-level discussion, or lessons learned. Questions and discussion are encouraged throughout and not just at the end of a presentation or demonstration. High quality technical content, discussion, transparency and trust are the main goals of the Forum.
---
Recent Updates:
Report on the 2022 Western States Forum
January 31st, 2023
Report on the 2021 Western States Forum
January 31st, 2023
Don't wait! Submit an abstract for the 2023 Forum.
January 12th, 2023
It's time to register for the 2021 Forum!
June 23rd, 2021
New dates and technical agenda for the 2021 Forum
April 22nd, 2021
Important Notice! 15th Annual Western States Forum Canceled
April 13th, 2020
Check back soon for more Western States Forum updates.
---
UPDATE: Tuesday, January 31st, 2023
Report on the 2022 Western States Forum
The 2022 Forum was held on June 14 – 16 in Yreka, California. The event featured eight technical presentations and provided a variety of networking and discussion opportunities. A total of 45 participants joined. These attendees represented nine states (AZ, CA, IA, MT, NV, OR, TX, UT, and WA), five state DOTs, four universities, and the Southwest Research Institute. Caltrans Headquarters and Traffic Operations, Caltrans DRISI, and five of the twelve Caltrans transportation districts also participated. Overall, the Forum received positive feedback, with attendees stating that it is "one of the best conferences for us to attend."

Photo by: Doug Galarus
The Forum provides in-depth presentations that address rural ITS projects. Presentations run from 90 minutes to two hours and include time for questions, answers, and discussion. Detailed information about this year's presentations is located on the 2022 Forum Page on the Forum's website.
The Forum began with a presentation by Keith Koeppen from Caltrans District 2. Keith's presentation addressed efforts to mitigate weather impacts on Interstate 5 in Northern California. In order to reduce traffic queuing caused by winter road conditions and driving restrictions, Caltrans District 2 developed a changeable message sign (CMS), blank out sign (BOS), and Lane Control Sign (LCS) system. Keith provided an analysis of the system as well as a background of the problem and discussion of challenges encountered during the project.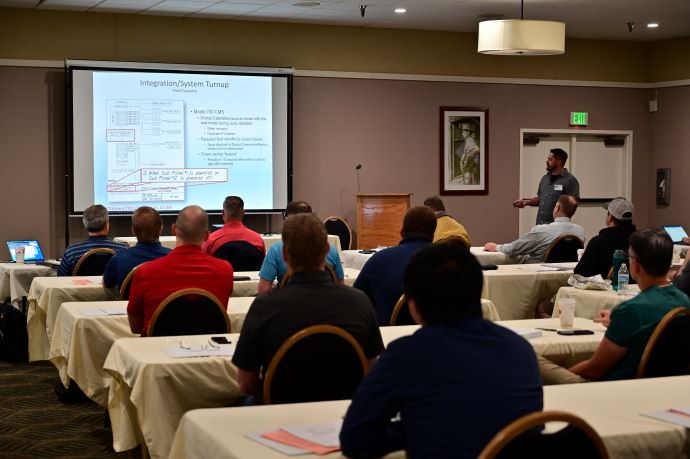 Photo by: Doug Galarus
Troy Torgersen presented on the implementation of a Variable Speed Limit (VSL) system along the I-15 corridor in rural Utah. He discussed the design of the VSL algorithm and provided a description of the equipment necessary for its fully autonomous operation. His presentation concluded with a review of lessons learned in relation to VSL system materials, equipment, placement, and construction.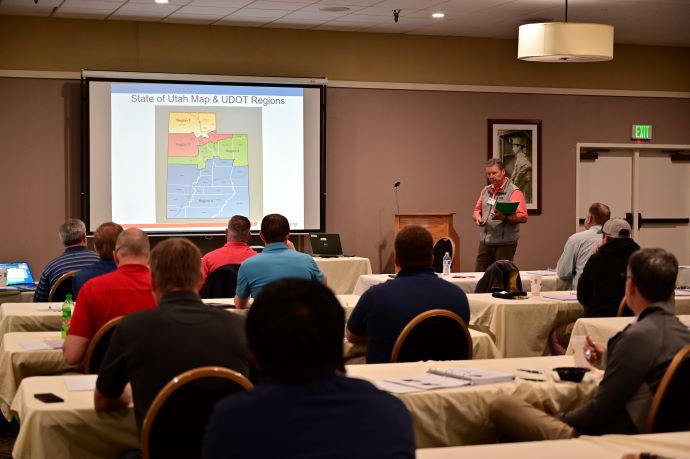 Photo by: Doug Galarus
Iowa State University Research Engineer, Skylar Knickerbocker, described a Dynamic Message Sign system deployed by the Minnesota DOT to alert drivers of winter road conditions. He then discussed his project that analyzed driver behavior when advisory messages triggered by pavement sensors were displayed on DMSs. Methodology, data analysis, results, potential benefits and next steps were all part of the presentation.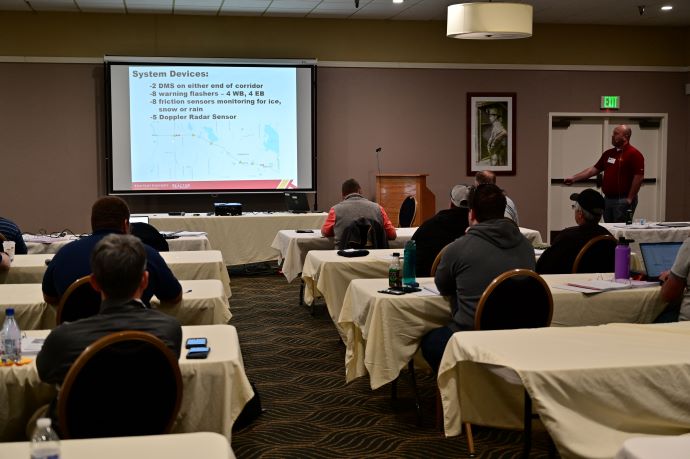 Photo by: Doug Galarus
LaShonn Ford presented on the Nevada DOT's adoption of the Transportation Systems Management and Operations (TSMO) strategy. TSMO addresses challenges with the use of systems management and operations rather than the traditional capacity building project approach. LaShonn described specific TSMO strategies and explained the NDOT project components, progress, and next steps. He concluded with a summary of challenges faced and lessons learned.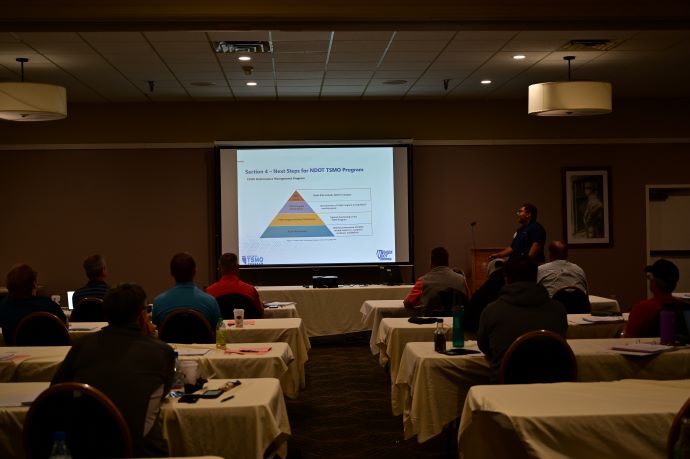 Photo by: Doug Galarus
Justin Belk and Joshua Hudson discussed the Washington State DOT's development and integration of a Work Zone Data Exchange (WZDx). The presentation began with a background on WZDx activity and importance and continued into a discussion of work zone technology and associated data efforts, project scope, and system goals. Justin and Joshua demonstrated features of the work zone data base and a Pi-Lit set-up populating the work zone data feed. They finished the presentation with a summary of lessons learned.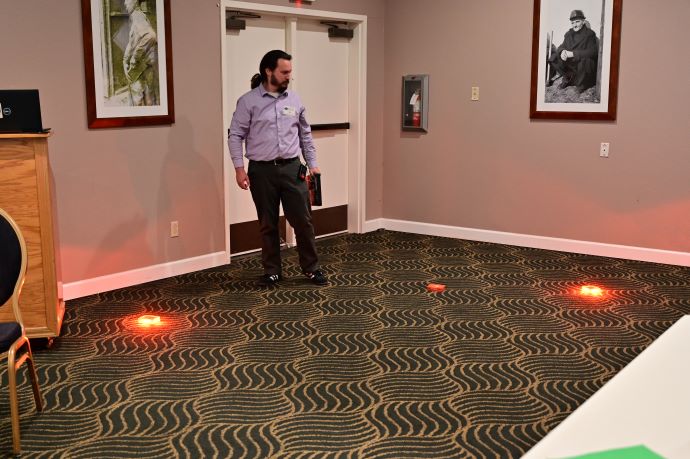 Photo by: Doug Galarus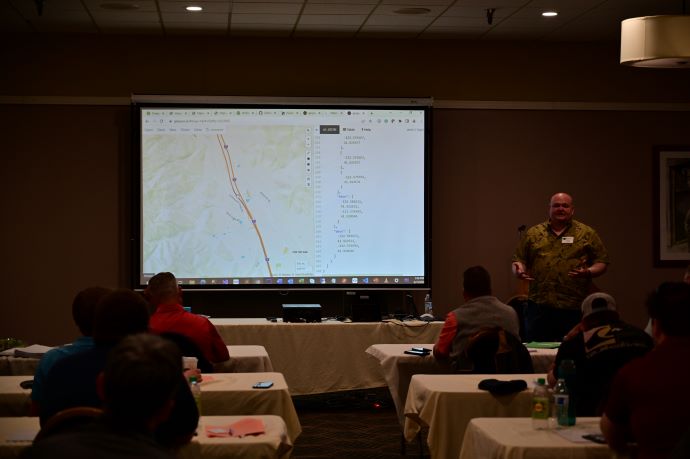 Photo by: Doug Galarus
Troy Torgersen provided an update on the Utah DOT's 2019 presentation, which had analyzed four Rural Intersection Conflict Warning Systems (RICWS) that were deployed to reduce car crashes. Troy then described Utah's new, less expensive approach to implementing conflict warning systems, which allowed the state to install ten new systems for the same total cost as the original four.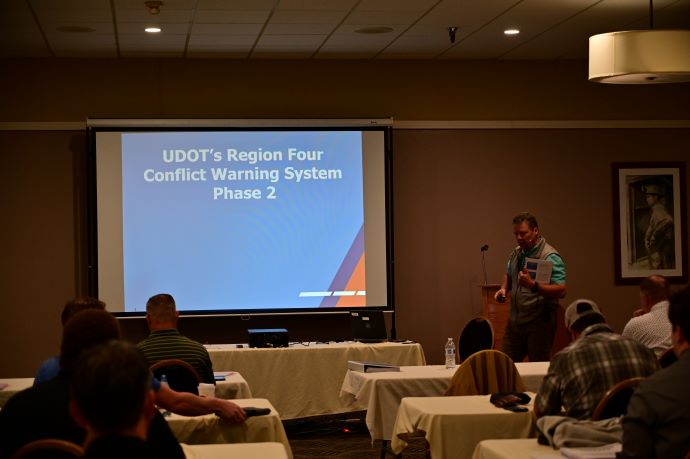 Photo by: Doug Galarus
Dan Rossiter from the Southwest Research Institute presented on the usage of commodity traffic cameras as an alternative to traditional roadway sensors. He described improvements in machine learning capabilities and computer vision technology and their potential impact on sensing equipment usage. Dan explained that with the introduction of new software, agencies could utilize existing traffic cameras to provide the benefits of traditional sensing equipment at a much lower cost.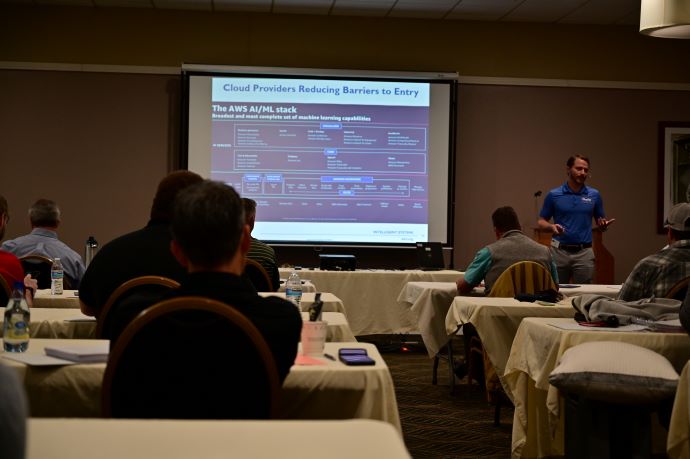 Photo by: Doug Galarus
Eric MacGill and Jeffrey Bickett presented on the application of fiber optic sensing technology to traffic monitoring efforts. Eric and Jeff explained how distributed acoustic sensing uses unused fiber optic cable to detect traffic on roadways, and described the ability of this technology to predict traffic speed and queuing rates. They then provided details on their current project, which uses fiber optic technology to obtain data along I-15 and I-95 in Las Vegas, Nevada.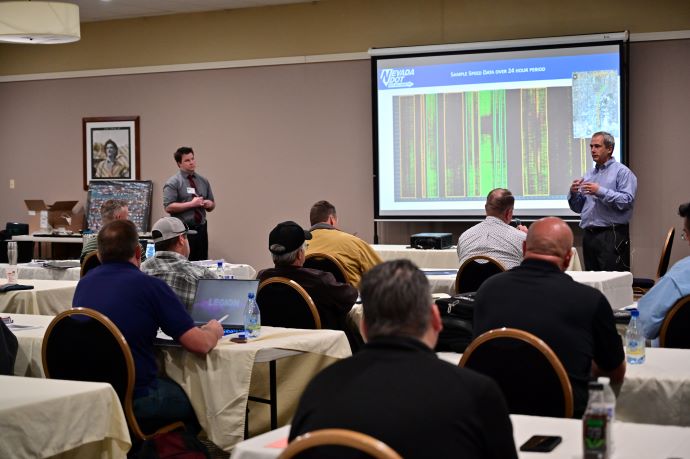 Photo by: Doug Galarus
Participants are encouraged to engage with Forum speakers and discuss the material presented both during and at the end of a presentation. In the image below, an attendee raises his hand to ask a presenter a question.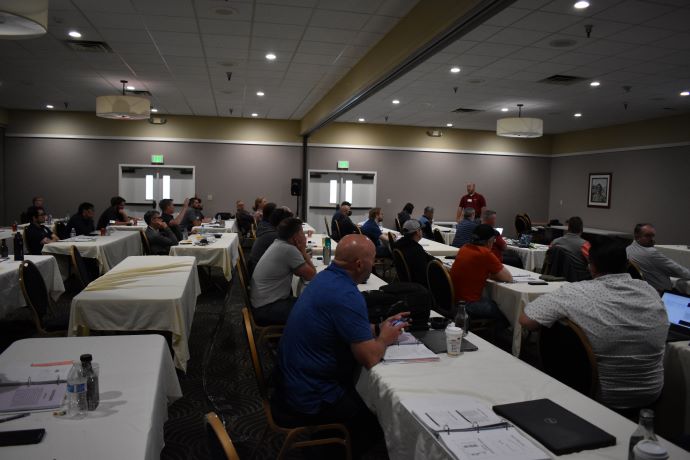 Photo by: Doug Galarus
The Western States Forum is committed to providing networking opportunities as well as technical presentations. These opportunities allow participants to meet one another, share ideas, and maintain the informal and transparent nature of the Forum. In the image below, attendees gather and talk during the no-host reception before the Tuesday evening dinner.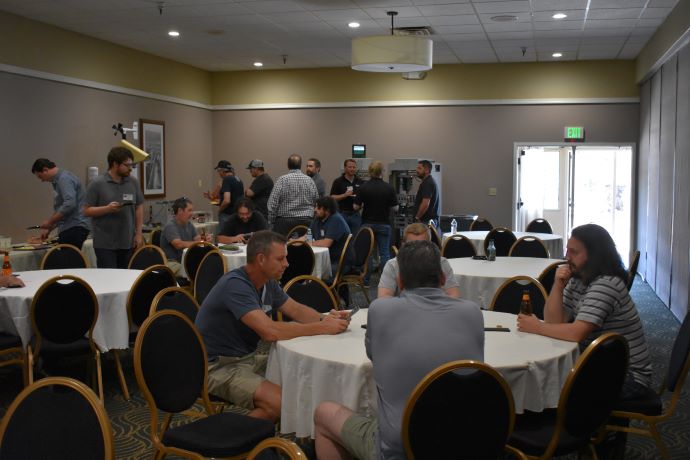 Photo by: Doug Galarus
The Western States Forum is organized and facilitated by a Steering Committee. This Committee chooses abstracts, reviews presentations, and plans the logistics associated with the event. Members of the Steering Committee include Leann Koon from the Western Transportation Institute (not present) as well as those in the image below. From left to right: Jeremiah Pearce, Caltrans District 2; Doug Galarus, Montana Tech; and Sean Campbell, Caltrans Division of Research, Innovation, and System Information (DRISI).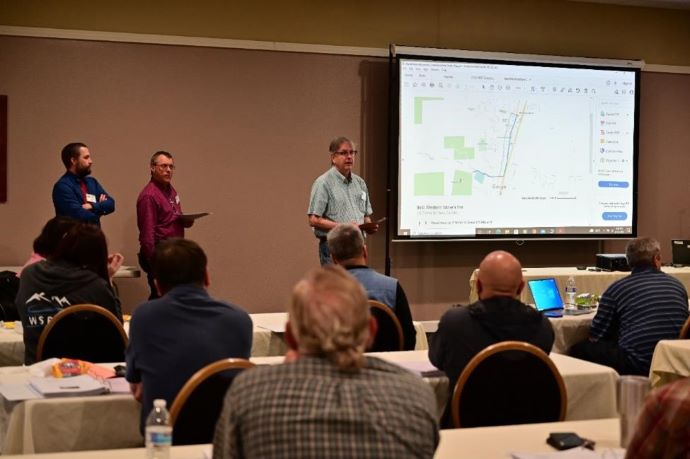 Photo by: Jeff Worthington
Event planner Marlene Woodard is a member of the Western States Forum's Steering Committee. She has assisted with the Forum since the first event in 2006 and provides integral support with meal facilitation, registration, facility set-up, and other general event logistics. Here she's being recognized by Sean Campbell for her support of the Forum over the years.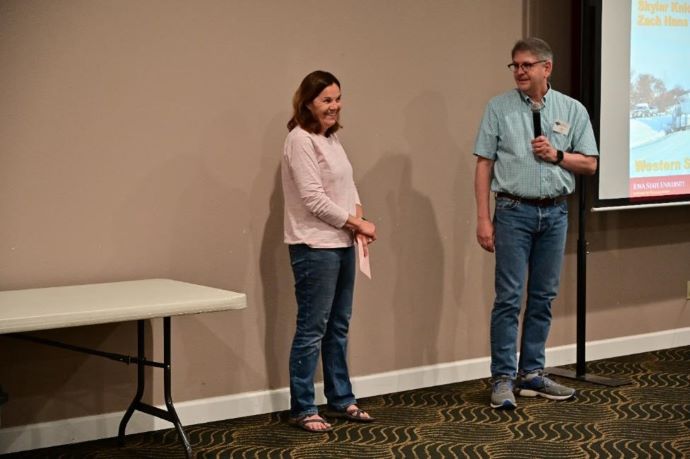 Photo by: Jeff Worthington
Thank you to everyone who made the 2022 Forum a sucess! A call for abstracts has been released for next year's Forum in 2023.
---
Project Contacts:
Steering Committee Member:
Leann A.F. Koon
Research Associate
Western Transportation Institute
Montana State University - Bozeman
PO Box 174250
Bozeman, MT 59717-4250
(406) 994-7643
(406) 994-1697 (fax)
leann.koon "at" montana.edu
www.westerntransportationinstitute.org
Steering Committee Member:
Jeremiah Pearce, P.E.
Chief, Office of ITS Engineering and Support
Caltrans District 2
1657 Riverside Drive, MS-14
Redding, CA 96001
(530) 225-3320
(530) 225-3255 (fax)
jeremiah.pearce "at" dot.ca.gov
https://dot.ca.gov/caltrans-near-me/district-2
Steering Committee Member:
Douglas Galarus
Assistant Professor
Department of Computer Science
Montana Tech
Museum 202
1300 West Park Street
Butte, MT 59701
(406) 496-4858
dgalarus "at" mtech.edu
https://cs.mtech.edu/
Steering Committee Member:
Sean Campbell, P.E.
Chief, ITS Special Projects Branch
Caltrans, Division of Research, Innovation,
and System Information
PO Box 942873
Sacramento, CA 94273-0001
(916) 387-5166
sean.campbell "at" dot.ca.gov
https://dot.ca.gov/programs/research-innovation-system-information
---