WSRTTIF Update - October 13th, 2017
---
UPDATE: Friday, October 13th, 2017
In June, a group of ITS engineers and practitioners from the western United States gathered to discuss rural ITS implementations at the 12th Annual Western States Rural Transportation Technology Implementers Forum. The event included eight technical presentations and demonstrations on a range of ITS technologies – from network security to asset management, automated traffic signal performance to ATC firmware, weather data to bicycle detection, and DSRC to naturalistic driving data. Forty-eight participants represented seven western states (California, Montana, Nevada, Oregon, Utah, Washington, Wyoming), six state DOTs, ten of the twelve Caltrans districts, several Caltrans divisions, three universities, the Federal Highway Administration, and the California Department of Water Resources.

To start off the technical presentations, Jeremiah Pearce and Lonnie Hobbs from Caltrans District 2 discussed the District 2 Field Element Network (FEN) and the Point-to-Point Protocol over Ethernet (PPPoE) link security protocol that they have implemented. Jeremiah Pearce started with a review of industrial networks and security in general and then discussed the District 2 FEN vulnerabilities and mitigation strategies. In part 2 of the presentation, Lonnie Hobbs described the implementation of District 2's PPPoE security protocol in detail, including hardware selection, router configuration, establishing a PPPoE connection, and password data encryption. After the presentations, Lonnie and Jeremiah demonstrated how easily their network could be accessed without link security, and then how PPPoE could effectively mitigate this vulnerability.
Seated in front, Jeremiah is demonstrating network access first without the PPPoE security protocol and then with link security: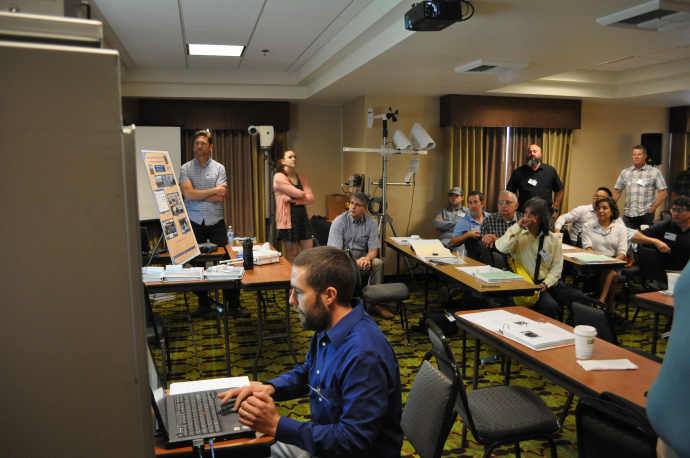 Photo by: Doug Galarus
And here is Lonnie presenting: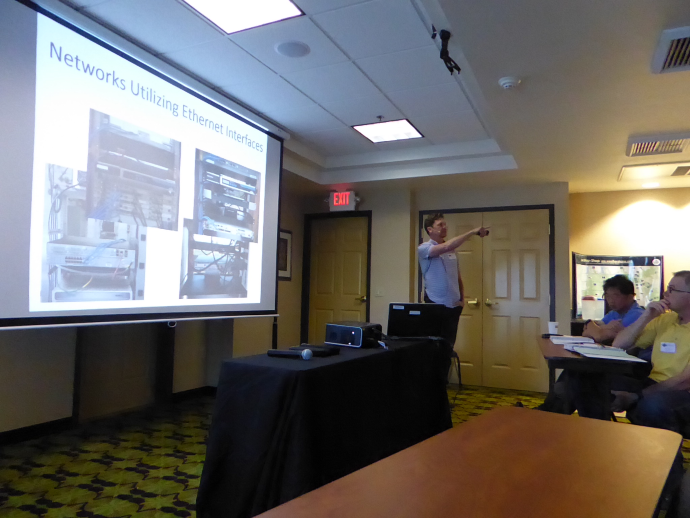 Photo by: Leann Koon
Blaine Leonard from the Utah Department of Transportation discussed their Dedicated Short Range Communications (DSRC) deployment along the Redwood Road corridor in Salt Lake City. Blaine started with an overview of connected vehicle systems, and then explained their DSRC deployment, including location selection, software, hardware, installation, and project costs. He also demonstrated the system, discussed the challenges faced, and made some recommendations based on lessons learned.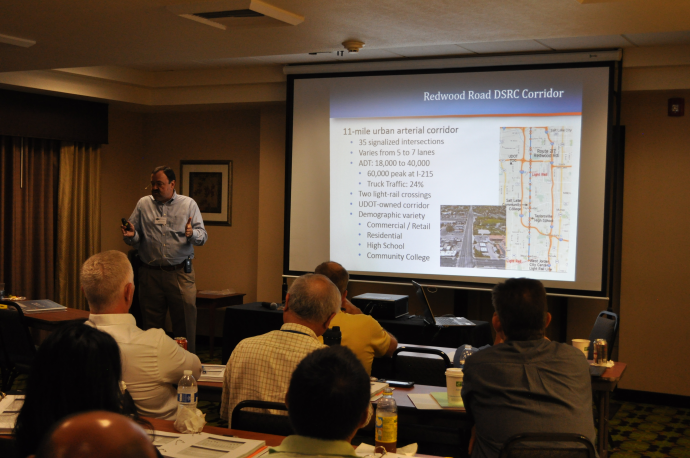 Photo by: Doug Galarus
Oregon DOT ITS Standards Engineer, Doug Spencer, described the Advanced Transportation Controller (ATC) ITS firmware that ODOT worked to develop. Doug first explained some background on the project, including a review of key points from several previous Forum presentations related to the ATC and custom ITS applications. He then reviewed the needs for the ITS firmware, uses of the ATC, and the many different sensors and devices that can be operated in a standardized way utilizing the ATC and the controller's application programming interface (API).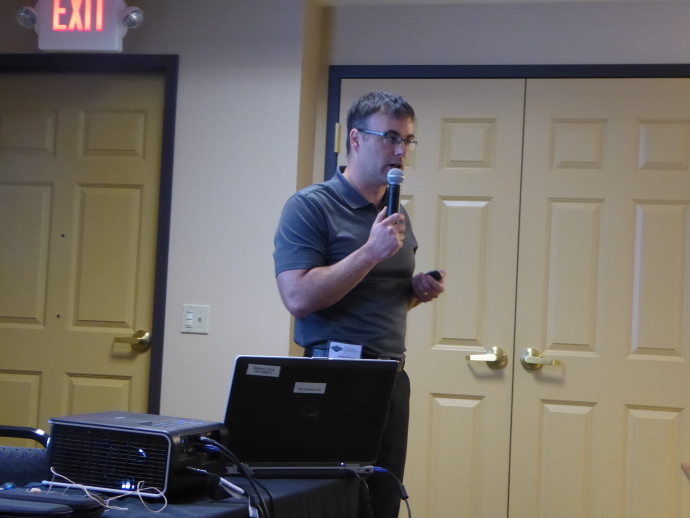 Photo by: Leann Koon
NDOT Technology Manager, Jim Whalen, described the new GIS-based, mobile asset management system that NDOT has worked to develop and implement. He explained how NDOT arrived at this solution, and then demonstrated the features of the system while discussing how NDOT is using the information to better manage traffic system assets.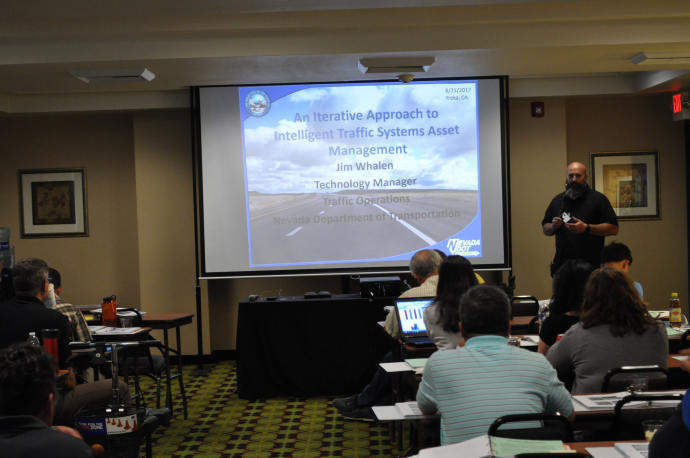 Photo by: Doug Galarus
WTI Principal Investigator, Doug Galarus, discussed the WeatherShare system which is the result of a multi-phase research project. Now in its fourth phase, this project is combining the functionality of WeatherShare, SCAN WebTM, and SCAN SentryTM, into a single, open system. He illustrated the many features of WeatherShare and showed the administrative functionality and technical details related to implementing the system.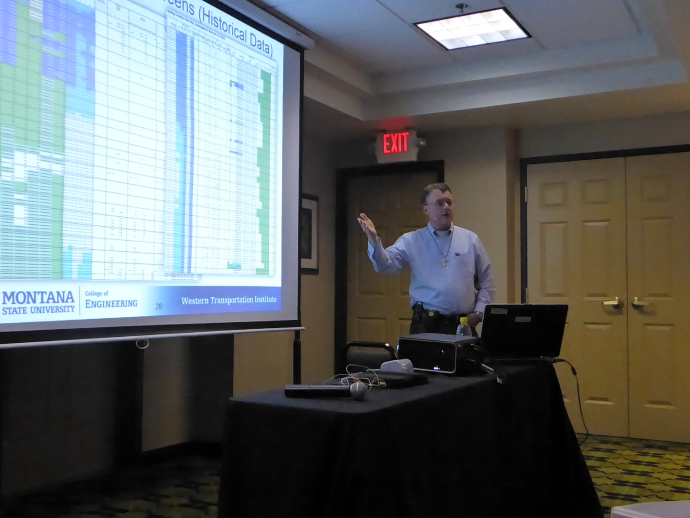 Photo by: Leann Koon
Utah DOT's Statewide Signal Engineer, Jamie Mackey, discussed the usage of automated signal performance metrics to optimize mobility, detect operational deficiencies, and manage signal timing and maintenance. She discussed the hardware requirements, described the system and its features, demonstrated the UDOT system, and explained how other agencies can acquire and use the software.
Here, Jamie is kicking off the discussion with the question, "Why model what you can measure?"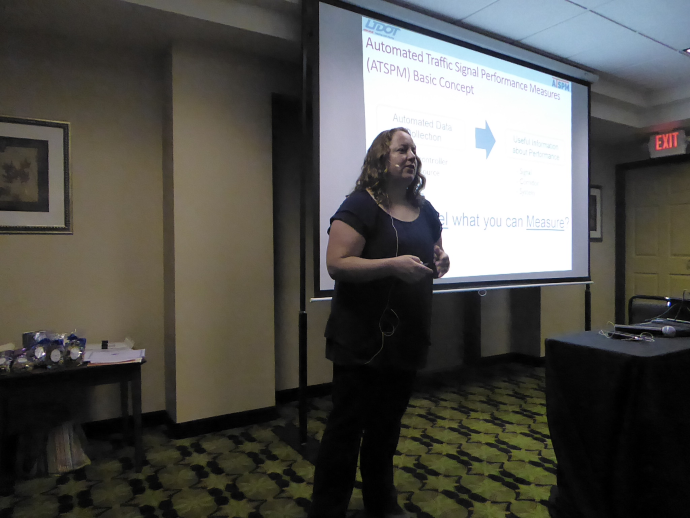 Photo by: Leann Koon
Dr. Anurag Pande and Stephen Lakowske from Cal Poly, San Luis Obispo, described their research study that is utilizing naturalistic GPS driving data. Dr. Pande described the data collection methods and the devices used. He shared the results and the subsequent data analysis. Mr. Lakowske then discussed technical considerations, industry needs, and various data collectors, including smartphones, that could be used to scale up such data collection and analysis.
Here is Dr. Pande: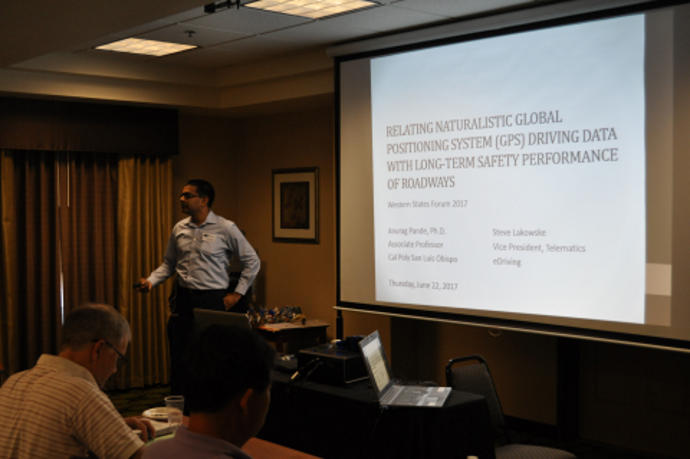 Photo by: Doug Galarus
Here is Mr. Lakowske: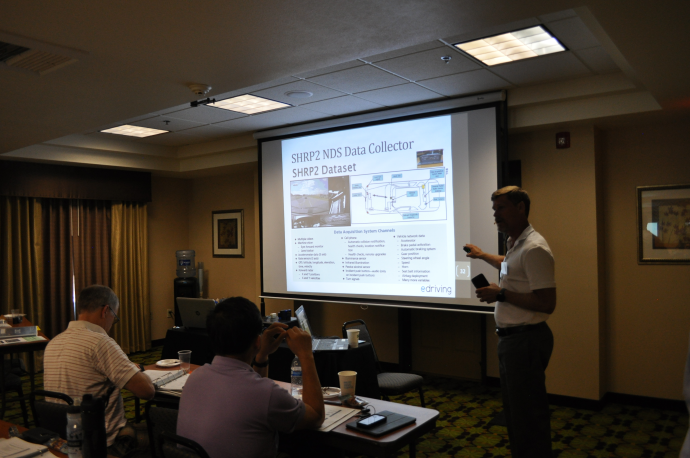 Photo by: Doug Galarus
In a continuation of work presented at the 2013 Forum, Caltrans Senior Transportation Electrical Engineers, Martha Styer and John Slonaker, described their project that is using radar technology to distinguish between bicycles and cars or trucks on roadways. Martha started with an overview of the project and the testing being done. She shared the results and lessons learned from their recent tests in West Sacramento and Huntington Beach. She also described the C1 traffic detector reader and analyzer that they have developed to diagnose and troubleshoot vehicle detection problems. John showed the radar detection set-up, the C1 reader and its components, and demonstrated the VideoSync software used for this project.
Here's Martha: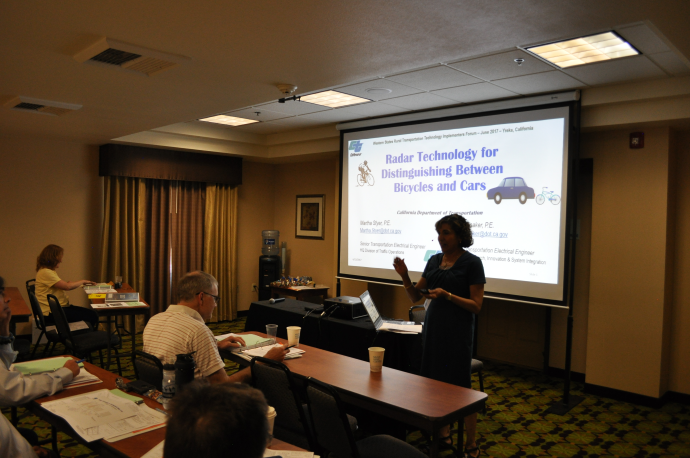 Photo by: Doug Galarus
And here's John: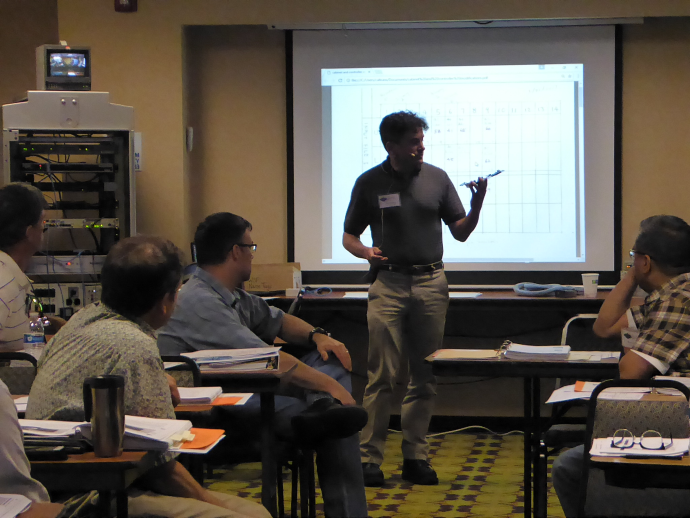 Photo by: Leann Koon
The Forum continues to provide engineers, maintenance personnel, and technicians with highly technical information about rural ITS projects. It is unique in that questions and dialogue are encouraged throughout the presentation versus just at the end. Once again, this year's presentations and demonstrations generated good discussion on all the topics. In this photo, several participants raise their hands to ask a question during a presentation: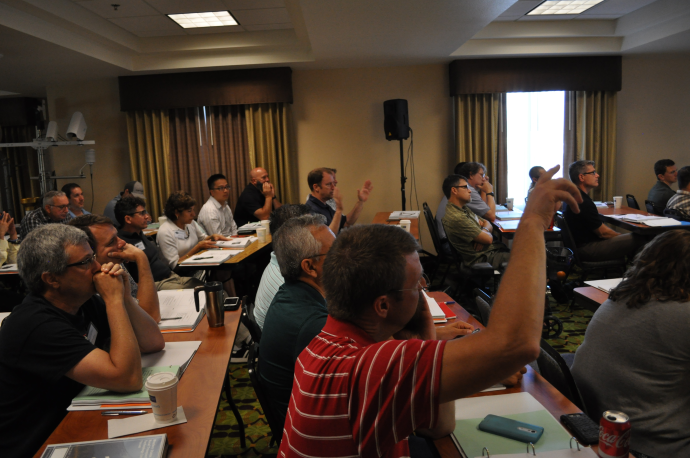 Photo by: Doug Galarus
To review the technical presentations, please visit the 2017 Forum Page on the Forum's website.
Transparency and trust are important tenets of the Forum's mission. To encourage this, over the years the Forum has maintained the rural perspective while continuing to create an informal atmosphere. There are ample opportunities to network with peers during meals and extended breaks, and the Wednesday evening dinner and networking session were held at a local park this year. Here are a few pictures: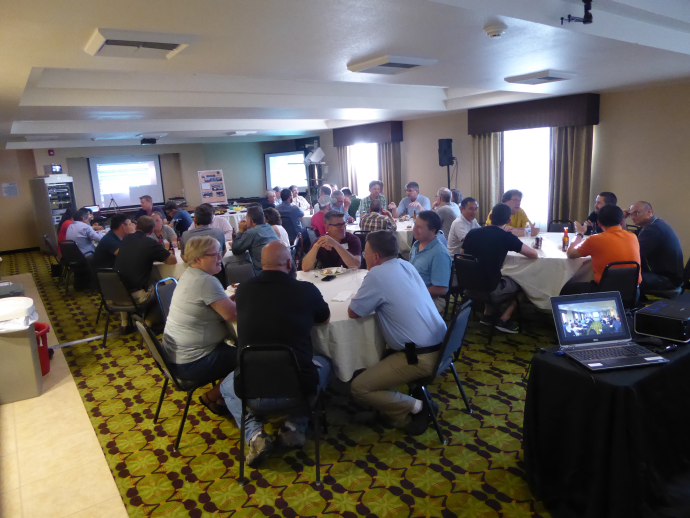 Photo by: Leann Koon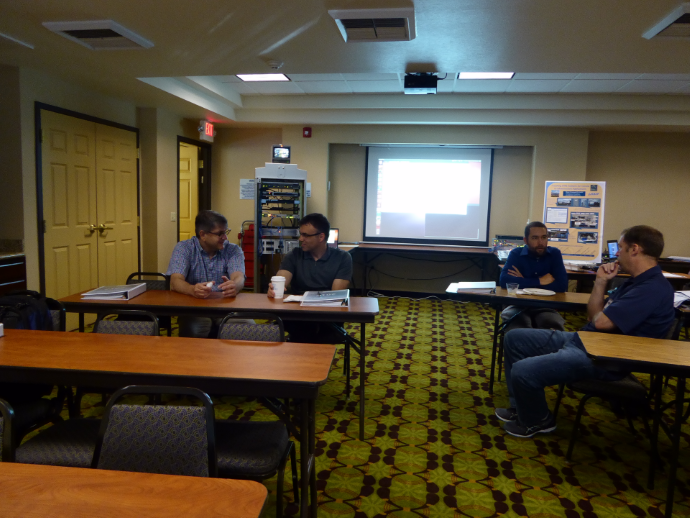 Photo by: Leann Koon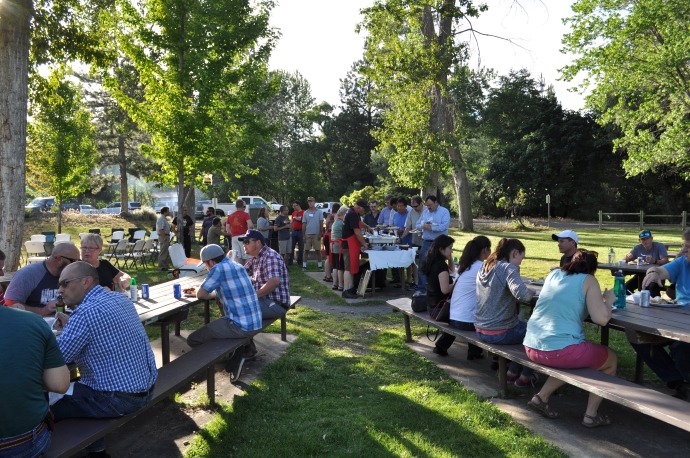 Photo by: Doug Galarus
The Western States Forum is organized and directed by a four-member Steering Committee. Sean Campbell (pictured left), one of the founders of the Forum and a Steering Committee member since 2006, was honored recently with the Karl Moskowitz Award. This award annually recognizes Caltrans registered engineers who have made major contributions to the field of transportation engineering. Award winners must have contributed to the field through effective and exemplary leadership; innovation in design, process, or procedure; publications, papers, presentations, and affiliations; and demonstrated public benefit from the individual's area of responsibility. In the photo on the right, Sean's colleagues from Caltrans Headquarters, Brian Simi (left) and Steve Hancock (right), congratulate and recognize Sean for his accomplishments.
| | |
| --- | --- |
| Photos by Leann Koon. | |
Here is some of what the nomination included:
"Sean has been a tireless champion for ensuring that Caltrans' Intelligent Transportation System field elements are operating and well-maintained. Sean's contributions have been crucial in enabling the traveling public to receive accurate, timely and reliable information about highway conditions and have allowed Caltrans to better manage the existing system by giving the Department the tools and information it needs to make more informed decisions. Sean is also one of the founders and key organizers for the Western States Rural Transportation Technology Implementers Forum, an annual event that attracts participants from the western United States."
Congratulations, Sean!
Thank you to everyone who helped make the 12th annual Western States Forum a success! Check back this fall to review the Call for Abstracts for the 2018 Forum.
---