WSRTTIF Update - December 13th, 2019
---
UPDATE: Friday, December 13th, 2019
The Western States Forum hit an attendance milestone this year with 53 ITS engineers and practitioners from the western and central United States meeting to discuss rural ITS implementations. The 14th Annual Western States Rural Transportation Technology Implementers Forum included eight technical presentations and demonstrations by 14 speakers from six different states. Participants came from eight states (CA, ID, MT, NV, OR, UT, WA, WI), seven state departments of transportation, three universities, the City of Portland (OR), and Civil Science. Caltrans Headquarters, Caltrans DRISI, and eight of the twelve Caltrans districts were represented. The Forum is a technically targeted event and attendance has been intentionally capped. This helps create a more informal atmosphere that allows an open exchange of ideas and a better chance to network with peers.

Photo by: Doug Galarus
You can review the technical content and images from this year's Forum on the 2019 Forum Page on the Forum's website.
Transportation electrical engineer Andres Chavez from Caltrans District 3 started the Forum's technical agenda by discussing how District 3's travel time data sources have moved from loops, to Bluetooth, to Waze and HERE data. He presented pros and cons for the various sources and technical details on how the data was acquired and utilized. Here he's showing the audience some of the equipment they tested.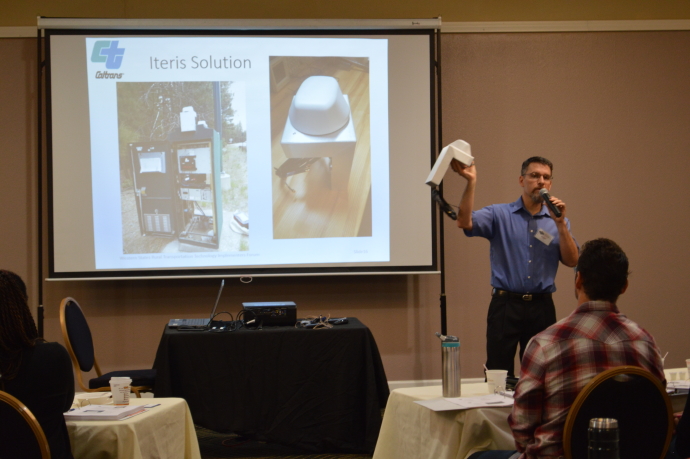 Photo by: Doug Galarus
Robert Dowell and Troy Torgersen from Utah DOT teamed with Tyler Turner from Civil Science to discuss UDOT Region Four's three Rural Intersection Conflict Warning Systems (RICWS) they helped design and implement.
While Troy (right) waits for his turn to speak, Robert (left) reviews the system sites and how/why the locations were chosen.
Photo by: Leann Koon
Here Tyler is discussing the different approaches that could be used to establish warrants for the systems.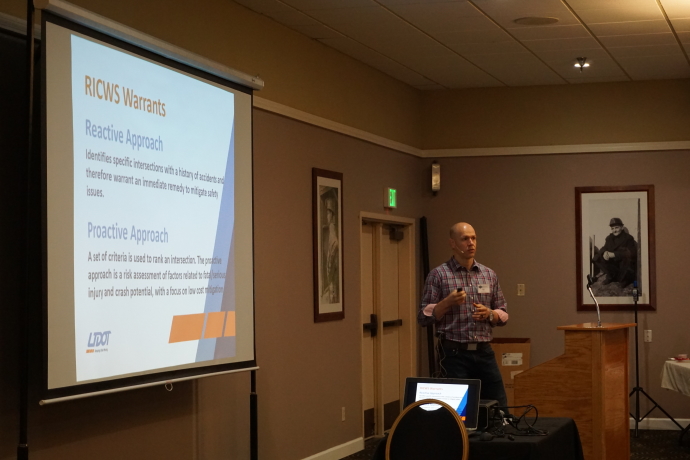 Photo by: Leann Koon
Troy went through the technical specifications for each of the systems along with installation and operational details.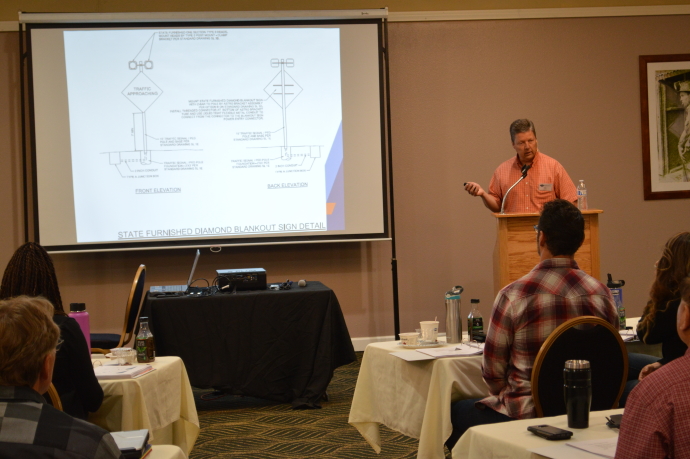 Photo by: Doug Galarus
The Caltrans Responder System was designed and developed as a more efficient and effective means to collect and share at-scene incident information with TMCs and emergency responders. Caltrans DRISI (Division of Research, Innovation, and System Information) project manager Melissa Clark, and UC Davis researcher Stephen Donecker, discussed some history of the project and rationale for the system, and then discussed system architecture, hardware, and software. They discussed implementation, design considerations and solutions, and what did and didn't work.
Shown below, Melissa is describing in detail the problem the Responder System was designed to address.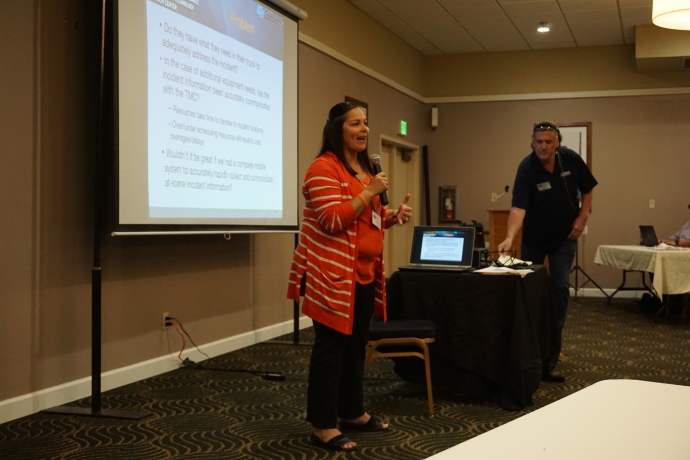 Photo by: Leann Koon
Stephen demonstrated the portable system during breaks and networking sessions. In the photo below, he's (right) showing the system to (left to right) Jeremiah Pearce (Caltrans District 2), Jeffrey Forester (Caltrans Headquarters), and J.T. Dziatlik (Utah DOT).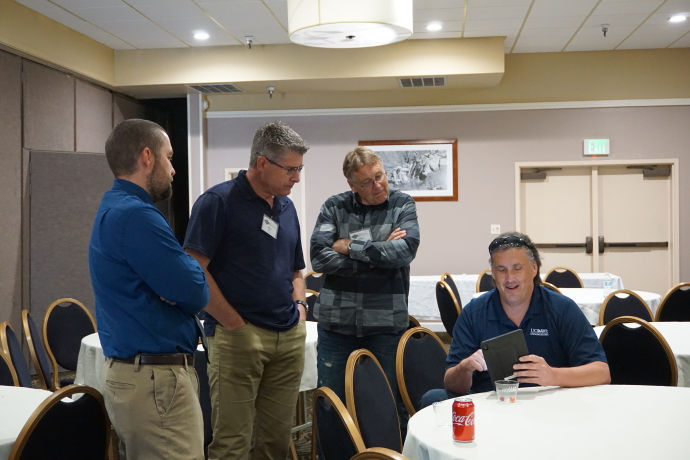 Photo by: Leann Koon
Jim Whalen, Gary Molnar, and Mark Aragon from the Nevada Department of Transportation shared what they did to build their ITS Network for the future and lessons learned. The team discussed project planning, requirements definition, lifecycle needs and cost-benefits, logistics around a wholesale upgrade, resource requirements and allocation, equipment, and operational challenges and solutions. They shared details on the progress made in the last year and the tools they now have to successfully meet the demands of the future.
Left to right: Jim Whalen, Mark Aragon, and Gary Molnar; Nevada Department of Transportation.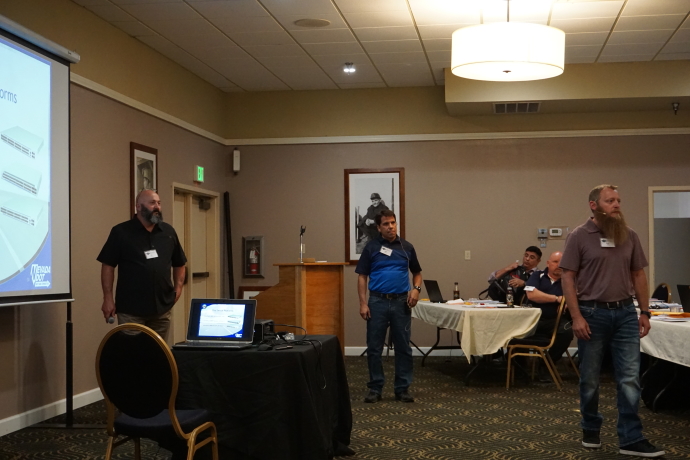 Photo by: Leann Koon
Utah DOT's Fiber Optics Manager Lynne Yocom shared UDOT's strategies for installing and accessing fiber optic systems in rural areas. She provided some background and history behind the work being done, discussed basic information on fiber optics systems, including typical installation and costs, and showed the growth and extent of UDOT's fiber network (see photo below). Lynne then focused on how the trade agreements are structured and reviewed the details for several examples from Utah.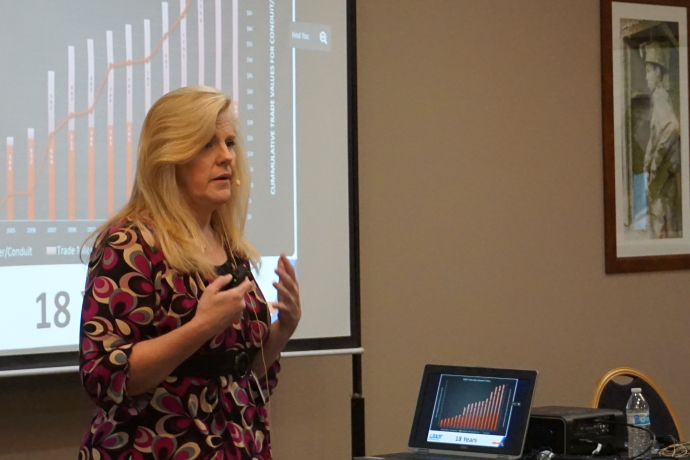 Photo by: Leann Koon
Oregon DOT's Julie Kentosh (right) and Doug Spencer (left) teamed up to present ODOT's work with connected vehicle applications and the pilot project deployed in Salem, Oregon.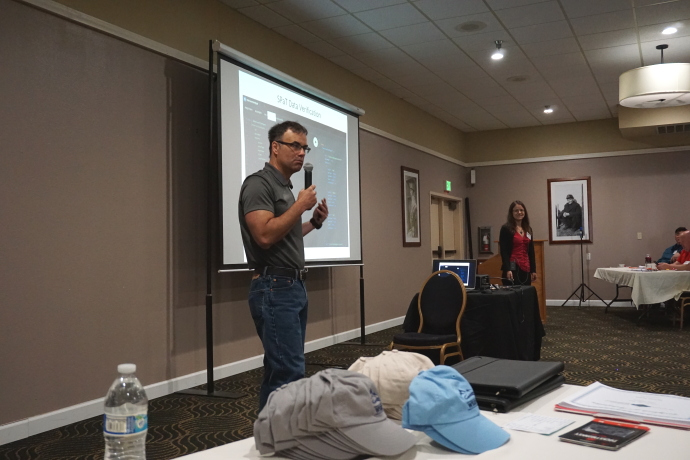 Photo by: Leann Koon
Ken Burt, a signal operations engineer in Washington State DOT's Olympic Region, reviewed the region's experience with Miovision equipment and the AASHTO SPaT Challenge. He gave a brief demonstration of the system as well. Here's Ken: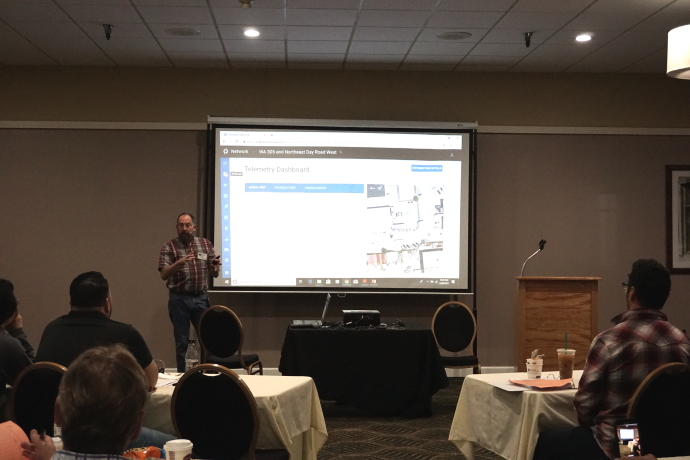 Photo by: Leann Koon
Upon suggestion from Caltrans' Steve Hancock, a regular Forum attendee, Michael Adams, the Road Weather Program Manager from the Wisconsin DOT presented the Maintenance Decision Support System (MDSS). Michael started with an overview of the MDSS system, what it is, and what it is used for, along with some history of how the system was first developed and has since evolved. In the photo below, he's discussing the challenges associated with winter maintenance.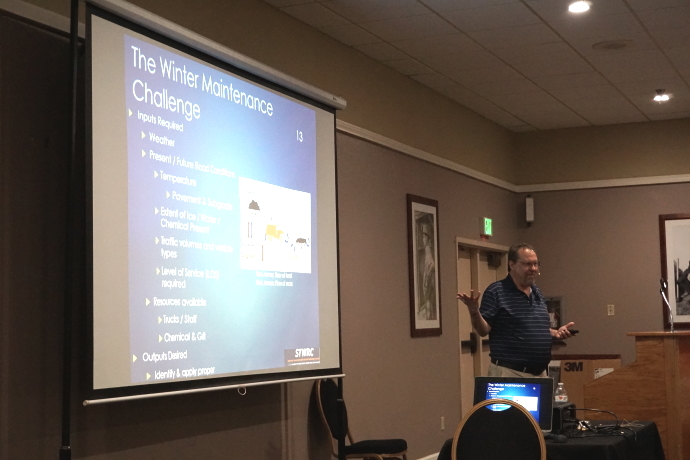 Photo by: Leann Koon
Presentations at the Western States Forum are detailed and last between one and two hours, allowing speakers the opportunity to really delve into the technical details of a project. It is unique in that questions and dialogue are encouraged throughout a presentation versus just at the end. Once again, this year's presentations and demonstrations provoked quality discussion throughout the Forum.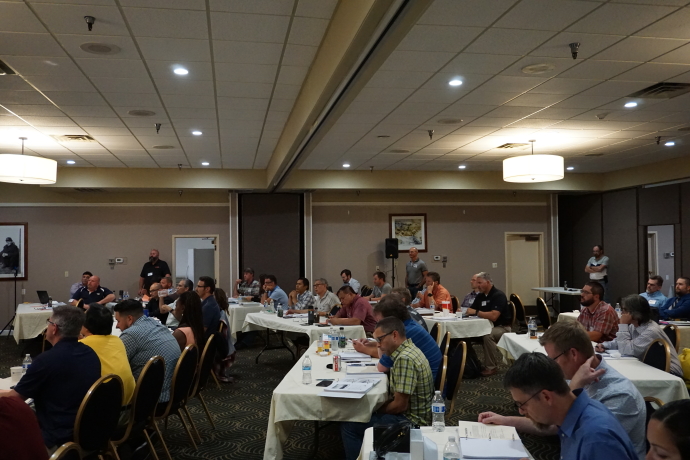 Photo by: Leann Koon
In this picture, numerous hands are raised to ask questions and discuss with Julie and Doug about Oregon DOT's connected vehicle work with the In-Car Reference App and the MaxView Connected Vehicle application.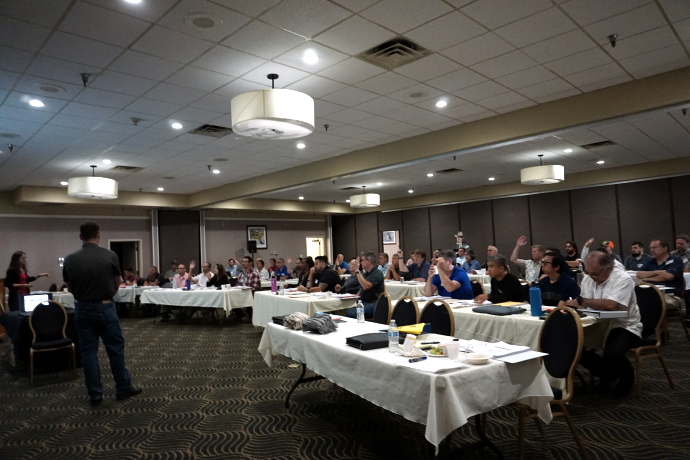 Photo by: Leann Koon
On left, speaker Andres Chavez is engaging the audience with discussion over travel time prediction tools. And on the right, Brian Pecus, Chief ITS and TMS Asset Manager from Caltrans District 11, engages with speaker Troy Torgersen from Utah DOT on some project details.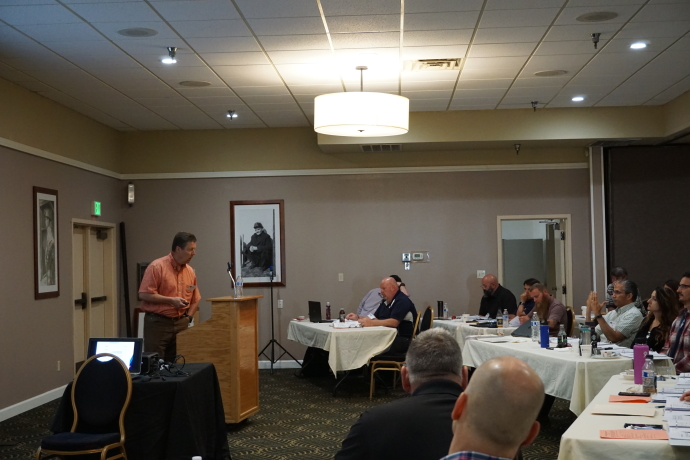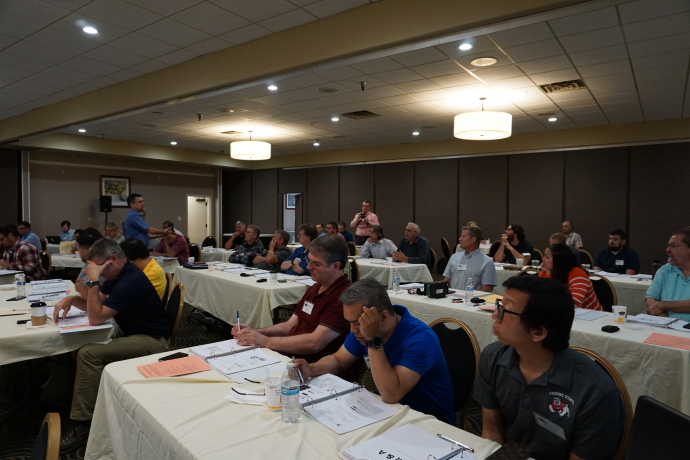 Photos by: Leann Koon
Caltrans District 2 and some of the speakers brought equipment to display, pass around during presentations, and demonstrate during networking sessions.
On left, Terry Thompson (center) from Caltrans Headquarters looks at some of the equipment that Andres Chavez passed around during his presentation. Pictured in the center, Justin Belk from Washington State DOT photographs equipment set up by Caltrans. And on the right, Jeff Worthington (right) from Caltrans District 2 talks with UC Davis researcher Stephen Donecker (left) about District 2's RWIS RPU redesign in front of the demonstration unit display.
Photos by: Leann Koon
Transparency and trust are important tenets of the Forum's mission. To encourage this, over the years the Forum has maintained the rural perspective while continuing to create an informal atmosphere. There are ample opportunities to network with peers during meals and extended breaks, and the Wednesday evening dinner and networking session were held at a local park. Here are a few pictures.
Left: After the Utah DOT presentation on the rural intersection conflict warning systems, Phil Braun (center) from the Idaho Transportation Department quizzed speakers Robert Dowell (left) and Tyler Turner (right) on the system layout and design. Right: July Dizon from Washington State DOT is shown networking with Michael Lee from Caltrans District 4 during an extended break between technical presentations.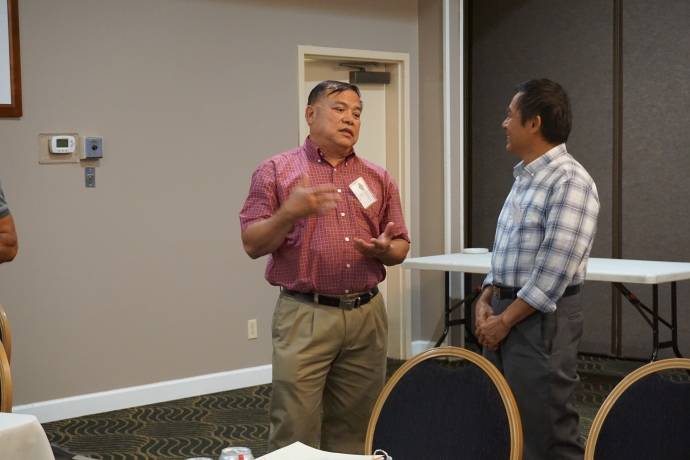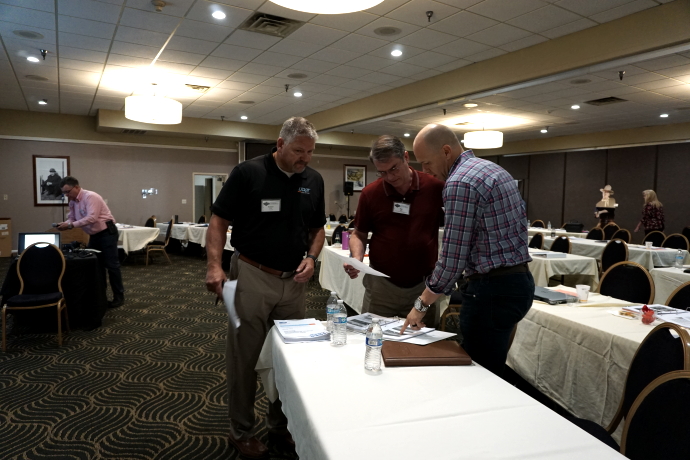 Photos by: Leann Koon
Tuesday evening dinner and networking: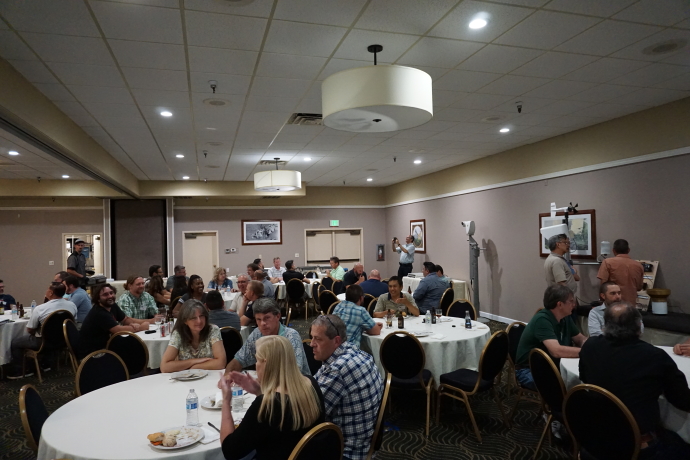 Photo by: Leann Koon
Dinner and networking session at Upper Greenhorn Park in Yreka: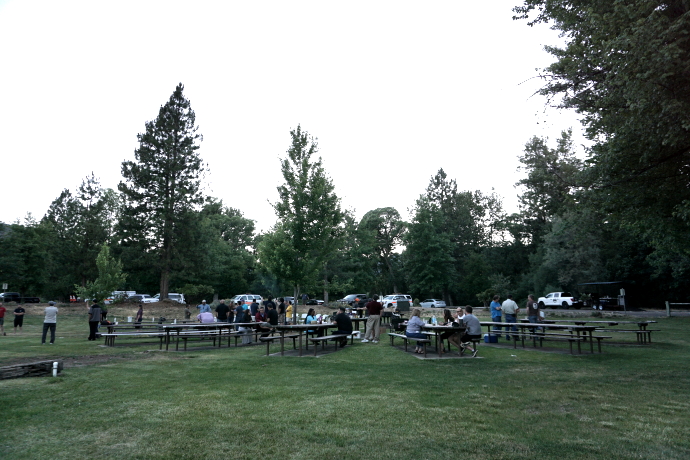 Photo by: Leann Koon
The Western States Forum is organized and facilitated by a Steering Committee. This Committee chooses abstracts, reviews presentations, and plans the logistics associated with the event. Steering Committee members are pictured here as they welcome participants and start the 2019 Western States Forum. Left to right: Doug Galarus, Western Transportation Institute and Utah State University; Leann Koon, Western Transportation Institute; and Jeremiah Pearce, Caltrans District 2. Not pictured, Sean Campbell, Caltrans Division of Research, Innovation, and System Information (DRISI).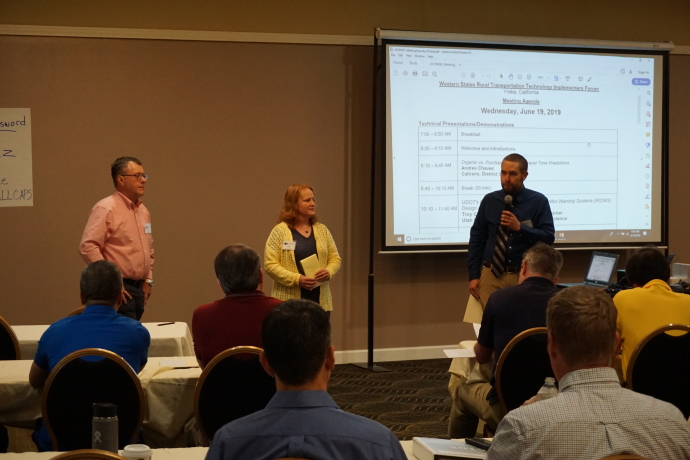 Photo by: Jeff Worthington
Sean did have a stand-in who kept an eye on things: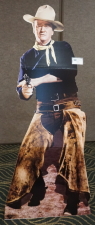 Photos by: Leann Koon (left) and Doug Galarus (right)
Marlene Woodard, a Redding based event planner, has helped with all 14 of the Western States Forums and is a critical member of the Forum Steering Committee. She has played a vital role organizing and facilitating meals, refreshments, facility layout, on-site registration, etc. Thank you, Marlene, for your organization and skill in bringing together all of the event logistics, helping to establish the desired atmosphere, and continuing to make the Forum a success. Marlene is shown below with her business' trailer outside the Forum venue.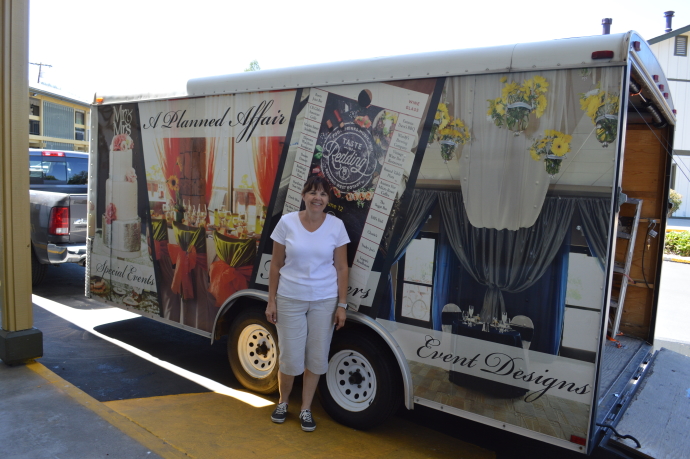 Photo by: Doug Galarus
Caltrans District 2 Office of ITS Engineering and Support has been the host for all 14 Forums. Retired Office Chief Ian Turnbull was one of the founders of the Forum and current Chief Jeremiah Pearce is now on the Steering Committee. District 2 has had a speaker for most of the events. They bring equipment to demonstrate, instigate and facilitate quality dialogue during the technical program, network, and help to set up and clean up the event. The group is a leader in rural ITS implementation within the state as well as regionally and nationally. Shown here during a lunch meal is clockwise around the table: Lonnie Hobbs, Kenneth Shipley, Chaylen Scrivner, Mike Beyer, and Keith Koeppen, networking with Caltrans District 3's Dean Campbell.
Photo by: Doug Galarus
Thank you to everyone who helped make the 2019 Western States Forum a success! Save the Date for the 15th annual Forum, June 16-18, and consider submitting an abstract.
---