WSRTC Update - October 3rd, 2014
---
UPDATE: Friday, October 3rd, 2014
The 2014 National Rural ITS Conference was held August 24-27, 2014, in Branson, Missouri. The theme this year was ITS in the Heartland and the conference brought together both "traditional and non-traditional ITS users to address such issues as rural safety, multi-agency coordination, and workforce development, as well as EMS and transit issues." Several individuals from the Consortium member states of California, Nevada, and Washington attended this year's conference as participants, speakers, and session moderators including: Sean Campbell, Caltrans; Ron Vessey, James Todd Daley, Tony Leingang, WSDOT; Tom Moore, Nevada DOT; and Doug Galarus, WTI.
Sean Campbell, Caltrans Division of Research, Innovation, and System Information, was a moderator in Session D2 Intersection Conflict Warning System – New Technology Developments. He is pictured below leading the discussion during the session: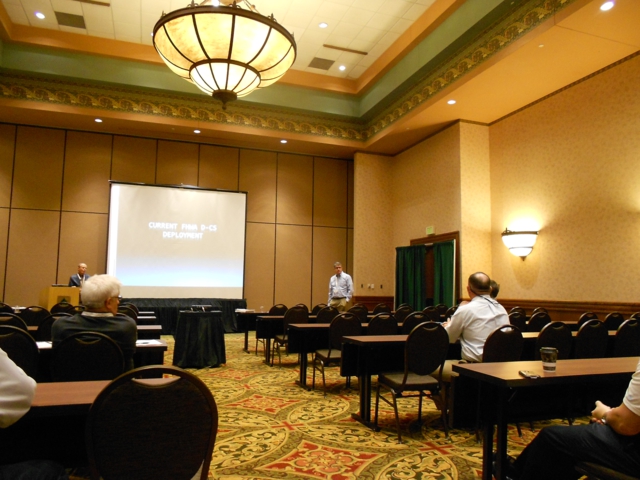 Photo by Doug Galarus
James Todd Daley from the Washington State DOT (WSDOT) presented their I-90 Snoqualmie Pass organized chain-up project in Session F1 Solutions in Freight: Safe Movement of Goods. I-90 crossing Snoqualmie Pass is a critical high volume freight corridor with an average annual snowfall over 450 inches. WSDOT's South Central Region developed a first of its kind system to increase safety, reduce delays, and allow for snow removal during chain-up conditions. Daley also presented Organized Chain-Up: Save the Space – Bringing Order to Chaos at the 2014 Western States Forum earlier this summer. You can review his Forum presentation on the WSF website.
Session F1 also included Tony Leingang (WSDOT) who presented a WSDOT project called Critical Freight Detour Pass System. This system allows permitted, controlled authorized freight movement into and through disaster areas or areas affected by highway disruptions longer than three days.
Session G1 Professional Development Opportunities – Developing Your Skills and those of your Organization was an opportunity to learn about various professional development opportunities available through the USDOT's Professional Capacity Building (PCB) Program and the online Knowledge Resources, along with PCB specifically for communications. In this session, Doug Galarus and Sean Campbell presented Professional Capacity Building for Communications. To address the need for increased professional capacity for Rural ITS communications, the PCB project developed a comprehensive curriculum and conducted training for Rural ITS communications. Read more about this presentation in the PCB project update from October 3rd, 2014.
These presentations and others from the conference can be found in the Proceedings at www.nationalruralitsconference.org/past-events/.
In addition to the presentations, the Automated Safety Warning System Controller (ASWSC) project was a finalist for a Best of ITS Award in the Best New Innovative Practice – Rural ITS Project category. Here, Doug and Sean give a short presentation about the Controller project just prior to the award announcement.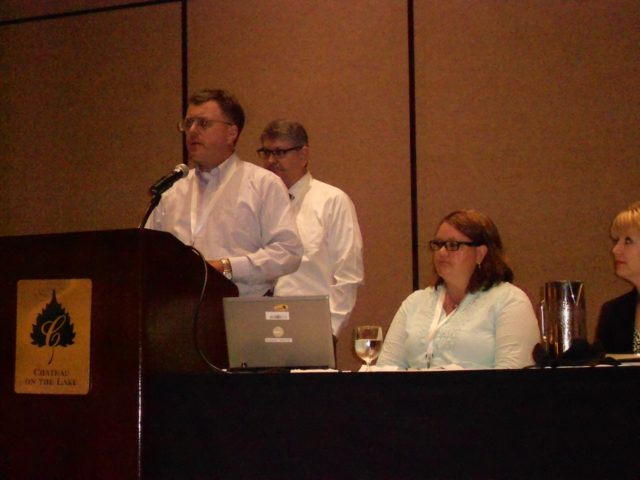 Photo by Ron Vessey
The ASWSC project is a collaborative effort between the Caltrans Division of Research, Innovation, and System Information, Caltrans District 2, the Western Transportation Institute, and the Western States Rural Transportation Consortium. You can read more about this project and the recognition received in the Controller project update from September 18, 2014.
Check back at the end of the year for more information about the next Steering Committee meeting and future WSRTC activities.
---