Professional Capacity Building (PCB) for Communication Systems
OVERVIEW | HISTORY | CONTACTS | UPDATE | ARCHIVED UPDATES | DOCUMENTS | FACT SHEET | IMPACT
The goals of this project are to develop a comprehensive curriculum and conduct training for Rural ITS communications. Rural ITS engineers may lack the critical skills for designing and maintaining reliable and robust communication networks for rural ITS field equipment. This project has an educational focus and its primary objective is to have leading subject matter experts provide a hands-on, "nuts and bolts" learning experience for rural ITS engineers and technicians. Learning outcomes are centered on understanding the various communication technologies available and how to best select and implement these technologies, particularly in a rural environment.

California Department of Transportation engineers are participating in the development of this curriculum, were students in the initial pilot module, and will participate in subsequent course development and implementation.
---
Phase 3 Completed
February 8th, 2016
Telecom Wireless Fundamentals training course a success!
April 6th, 2015
Phase 3 – Telco Wireless Technologies
January 8th, 2015
Presentation at the 2014 National Rural ITS Conference
October 3rd, 2014
Hands-On Ethernet and TCP/IP Fundamentals training course
November 12th, 2013
IP Networking Fundamentals and Usage the next subject area for Phase 2
April 29th, 2013
Check back soon for more PCB for Communications updates.
---
UPDATE: Monday, February 8th, 2016
Phase 3 of the Professional Capacity Building (PCB) for Communications project was recently completed. The project team researched and revised a comprehensive training curriculum for transportation communication systems that will build the professional capacity of rural intelligent transportation system (ITS) engineers and technicians. This phase of the project included a needs assessment and gap analysis, as well as the facilitation of a training course on Telco Wireless communication technologies.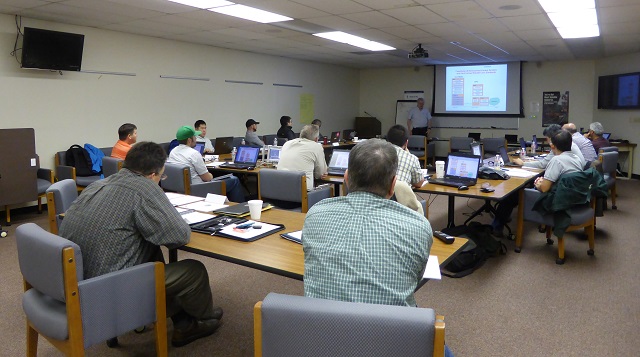 Photo by Leann Koon
The project team completed four tasks with related deliverables: Project Management, Course Selection, Course Delivery, and Evaluation. The training course and evaluation summaries, as well as the results of the needs assessment and gap analysis are included in the final report document. The revised Curriculum Scope and Sequence is a separate document.
The following documents can also be found on the PCB Project's Documents page and in the Documents archive.
You can read more about the Telco Wireless training course in the April 6th, 2015 PCB project update.
---
Project Technical Advisory Panel (PTAP)
Caltrans Past Project Manager:

Sean Campbell, P.E.
Chief, ITS Special Projects Branch
Caltrans, Division of Research, Innovation,
and System Information
1227 O Street, PO Box 942873
Sacramento, CA 94273-0001
(916) 654-8868
(916) 657-4580 (fax)
sean_campbell "at" dot.ca.gov
www.dot.ca.gov/newtech/

Caltrans Project Champion:

Ian Turnbull, P.E.
Chief, Office of ITS Engineering and Support
Caltrans District 2
1657 Riverside Drive
Redding, CA 96001
(530) 225-3320
(530) 225-3299 (fax)
ian_turnbull "at" dot.ca.gov
www.dot.ca.gov/dist2/

Caltrans PTAP Member:

Steve Hancock, P.E.
ITS Functional Manager
Caltrans, Office of Technology, ITS Support
1120 N Street, MS-36
Sacramento, CA 95814
(916) 654-6007
(916) 654-5452 (fax)
steve.hancock "at" dot.ca.gov
www.dot.ca.gov


WTI Principal Investigator:

Douglas Galarus
Program Manager
Systems Engineering, Development & Integration
Western Transportation Institute (WTI)
Montana State University - Bozeman
PO Box 174250
Bozeman, MT 59717-4250
(406) 994-5268
(406) 994-1697 (fax)
dgalarus "at" montana.edu
www.westerntransportationinstitute.org
WTI Research Associate and Course Coordinator:

Leann Koon
Research Associate
Systems Engineering, Development & Integration
Western Transportation Institute (WTI)
Montana State University - Bozeman
PO Box 174250
Bozeman, MT 59717-4250
(406) 994-7643
(406) 994-1697 (fax)
leann.koon "at" montana.edu
www.westerntransportationinstitute.org

Caltrans Project Manager:

Jose Perez
Caltrans, Division of Research, Innovation,
and System Information
1227 O Street
Sacramento, CA 94273
(916) 654-9390
jose_d_perez "at" dot.ca.gov
www.dot.ca.gov/newtech/
---