WSRTC Update - April 15th, 2016
---
UPDATE: Friday, April 15th, 2016
The Western States Rural Transportation Consortium (WSRTC) Steering Committee held a meeting on Tuesday, March 15, 2016 in conjunction with attendance at the 2016 Northwest Transportation Conference (NWTC) in Corvallis, Oregon. The NWTC, which is held every two years at Oregon State University, opened on March 15th and concluded on March 17th.
WSRTC representatives in attendance included:
Sean Campbell, Caltrans
Ron Vessey, WSDOT
Ian Turnbull, Caltrans
Jeremiah Pearce, Caltrans
Galen McGill, ODOT
Doug Spencer, ODOT
The Western Transportation Institute's Doug Galarus and Leann Koon also participated in the Steering Committee Meeting via phone, as did Rod Schilling from NDOT.
Agenda highlights included:
Welcome / Introductions
Western States Forum Update
State Funding Commitments Update
Incubator Project Proposals
WSRTC Pooled Fund Updates
Other business including a discussion of an Emeritus Designation
While attending the NWTC, Sean Campbell and Ian Turnbull found a familiar face in a fellow attendee they had not seen in a long time: former WTI employee, Chris Strong. Chris worked at WTI until 2008 and was the Principal Investigator on COATS Showcase (Phase 2), COATS Phase 3, and developed the scope of work in preparation for COATS 4. Along with Ian and Sean, Chris helped to found the Western States Forum. Chris is now the Transportation Division Manager at the City of Gresham in Oregon.
Here is a photo of Sean Campbell, Chris Strong and Ian Turnbull at the Northwest Transportation Conference in Corvallis, Oregon, March 2016:
<![if gt IE 7]>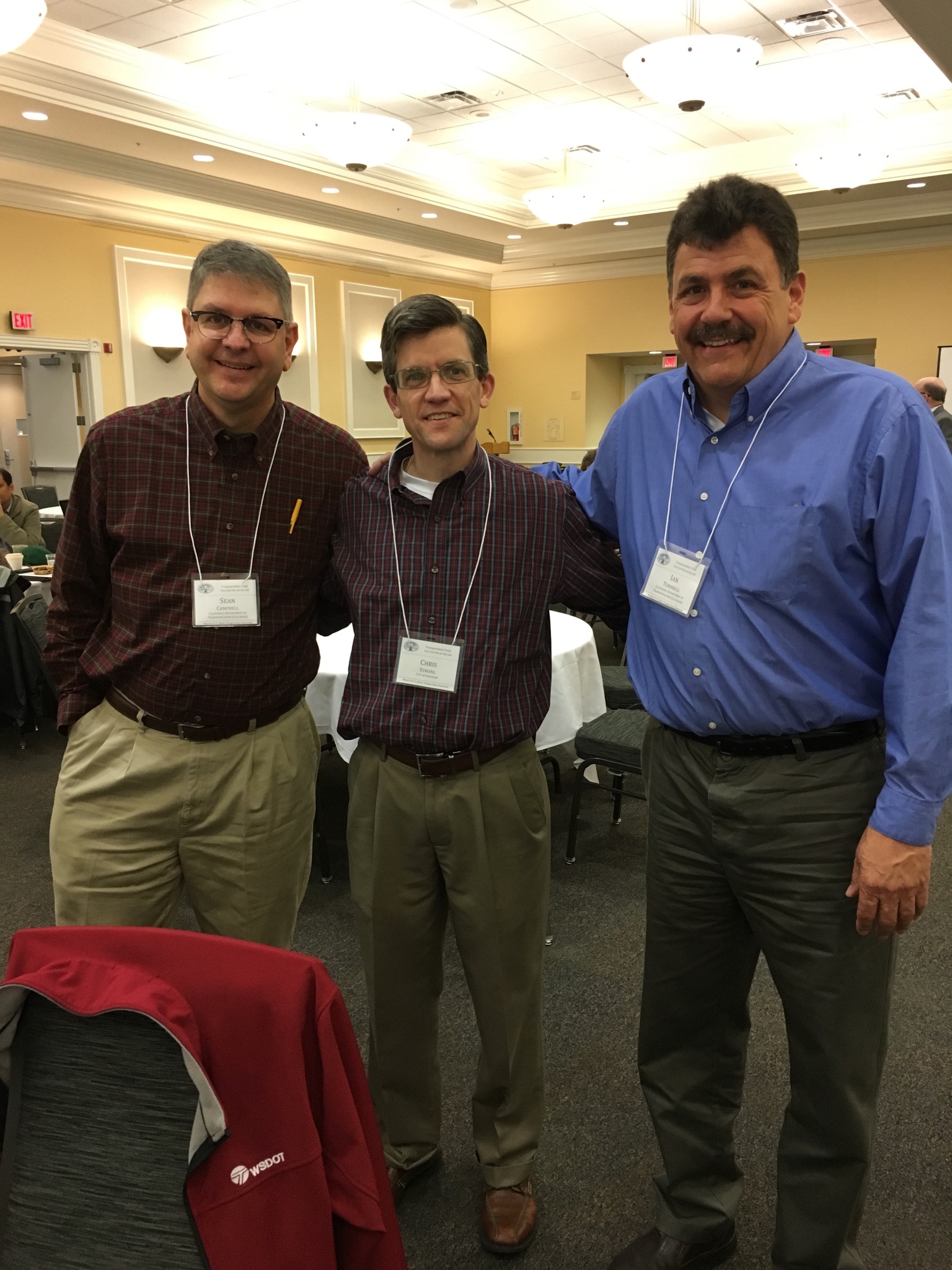 Photo by Jeremiah Pearce
<![endif]>
Check back soon for a copy of the agenda and the meeting notes as well as information about the next Steering Committee meeting and upcoming WSRTC activities.
---