California Oregon Advanced Transportation Systems (COATS)
For over 15 years, the California Oregon Advanced Transportation Systems (COATS) program has shown that a bi-state partnership to address rural ITS concerns is both feasible and advantageous. It allows for maximization of resources and provides a source for fresh ideas and perspectives. It provides a platform to address the issues and concerns of rural areas that might otherwise remain ignored. Numerous systems and approaches have been developed and evaluated over the years, providing useful information on which to base future deployment decisions. Several of these initial systems are still in place, addressing the concerns they were designed to. Finally, COATS has provided a platform on which to conduct expanding efforts geared toward outreach and tech transfer.

The roots of the COATS program stretch back to 1991. Caltrans recognized that there were rural concerns in dealing with advanced technologies that would evolve into Intelligent Transportation Systems (ITS). In 1995, efforts were begun to specifically examine ITS technologies in a rural context through a scoping study. This scoping study, the Program for Advancing Rural Transportation Technologies (PARTT), reviewed advanced transportation technologies, identified key issues concerning them, and developed conceptual ideas for future activities. As part of this work, a geographic area in Northern California designated a study area to refine the need and application of ITS in a rural environment. Caltrans and the Oregon Department of Transportation (ODOT) expanded the Northern California study area into Southern Oregon to maximize resources, foster cooperation, and investigate feasibility of ITS in a bi-state study area. All of these activities laid the foundation for what COATS would become.

In 1998, the Western Transportation Institute (WTI) at Montana State University, Bozeman, was selected to carry out further studies. Led by Chris Strong and Steve Albert, this effort, subsequently titled COATS, focused on ITS planning and architecture in the previously identified study area. Notably, the COATS project resulted in the development of the first two Rural Transportation Management Centers in California, one in Redding and one in Eureka. Additionally, the work resulted in deployment of an early-winner project. The specific activities of this phase of COATS, as well as subsequent phases, are outlined in the COATS project History.
---
January – March 2018 Quarterly Update
May 1st, 2018
October – December 2017 Quarterly Update
February 16th, 2018
July - September 2017 Quarterly Update
November 21st, 2017
Phase 7 Gets Underway
April 19th, 2017
6th Phase of COATS Project Completed
November 17th, 2016
Research Report - Data Quality for Aggregation and Dissemination of DOT Traveler Information
August 22nd, 2016
Check back soon for more California Oregon Advanced Transportation Systems (COATS) updates.
---
UPDATE: Tuesday, May 1st, 2018
COATS Phase 7 is facilitating ongoing technology transfer through the Western States Forum and continued demonstration and evaluation of ITS technologies through several incubator projects. Here is a brief summary of what was accomplished during the first quarter of 2018.
Western States Forum
Planning for the 13th Annual WSRTTIF (June 19th-21st, 2018; Yreka, CA) continued during this quarter. Mid-way through the quarter nine abstracts were selected for presentation and demonstration at this year's Forum. The first drafts of these presentations were reviewed at the end of the quarter.
Registration brochures for the 2018 Western States Forum were developed and distributed mid-March. Planning for meals and networking activities continued. For more information on the 2018 Western States Forum, please visit http://www.westernstatesforum.org/CurrentForum/.
To give you an idea of the event, here are some photos from the 2017 Western States Forum: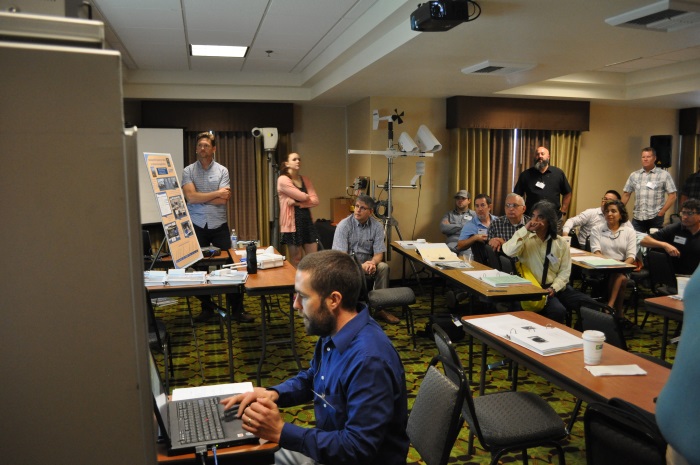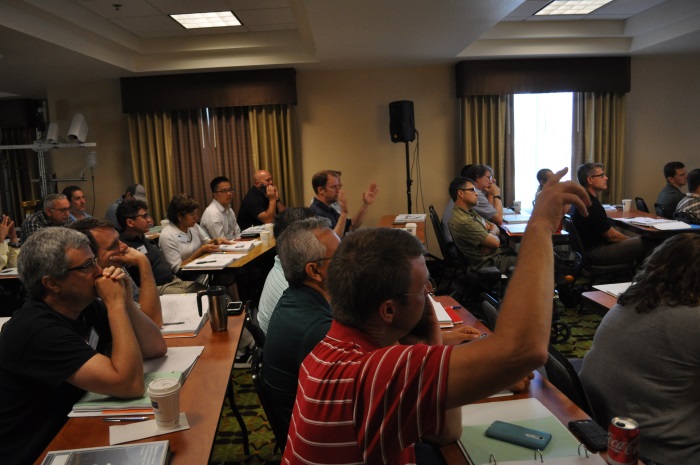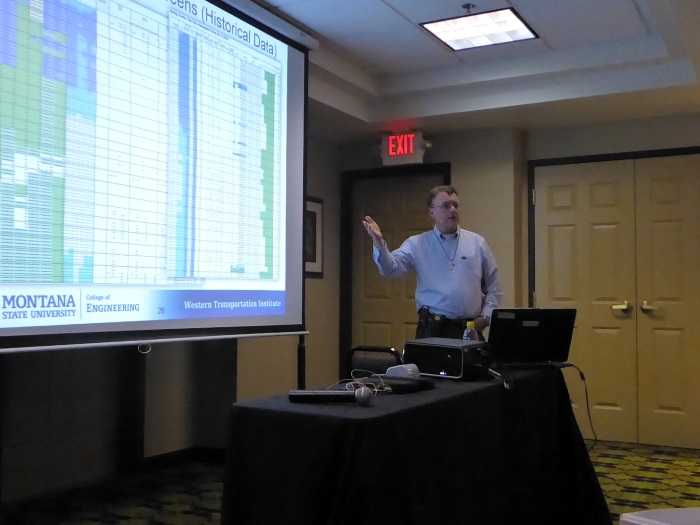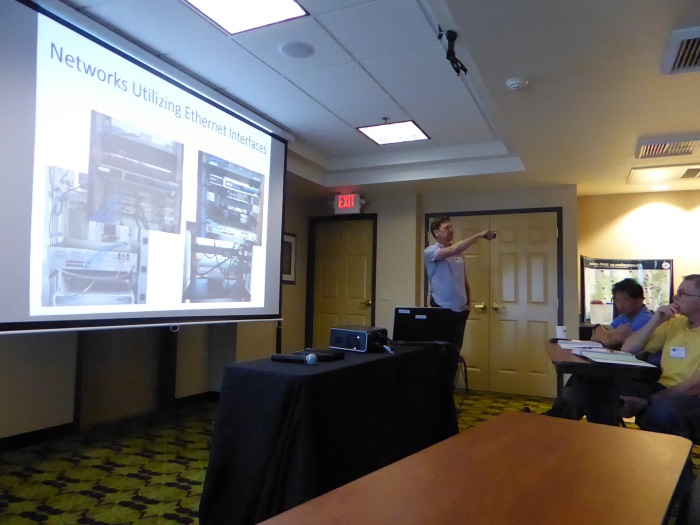 This year, speakers will come from five different states and present on a variety of ITS topics, many of which have a weather theme. Here is the anticipated agenda for this year's Forum:
Cellular Communications in Rural Applications (Keith Koeppen, P.E., Caltrans District 2)
DWR Environmental Data Acquisition Stations (EDAS) (Bryan Prestel, California Department of Water Resources)
Active Traffic Management (Blaine Van Dyke, P.E., Michael Burkart; Oregon Department of Transportation)
From AWOS/RWIS to Caltrans Aviation Weather Information (Douglas Galarus, Melissa Clark, Derek Kantar; WTI/MSU, USU, Caltrans)
Managing Winter Maintenance Costs and Increasing Safety through an Advanced Weather Visualization Platform (Ira Pray, Robert Koeberlein, Sara Lightbody, Zachary Spielman, Scott Wold; Idaho National Laboratory, Idaho Transportation Department)
UDOT's Snow and Ice Performance Measure (Jeff Williams, Cody Oppermann; Utah Department of Transportation)
ITS, Signals, Signage, and Sign Structures Condition Rating Dashboard (Doug Spencer, P.E., Oregon Department of Transportation)
Mobile Device App for Maintaining CMS Field Elements (Stephen M. Donecker, UC Davis)
Adapting an Advanced Traffic Management System for Rural Deployment (Ansley Skillern, Amit Misra; Southwest Research Institute)
During the second quarter of 2018, planning will continue and culminate with the Forum at the end of the quarter. The final versions of presentations will be due at the end of May. Meals, networking activities, lodging, and other event logistics will be planned and coordinated. The project team will finalize the Forum How-To Handbook. Expect more updates both here and on the Forum project pages as the Forum approaches.
Incubator Projects
The following incubator projects will be pursued to address Caltrans' needs and team member experience:
Traveler Information Data Quality: a work plan will be developed in the upcoming quarter.
How-To Handbook/Manual for the Western States Forum: the draft will be reviewed and finalized during the upcoming quarter.
Cellular Telco Usage in Rural Environments: a work plan will be developed in the future.
Make sure to check back next quarter for updates on the progress and status of the COATS projects.
---
Caltrans Project Manager:
Sean Campbell, P.E.
Chief, ITS Special Projects Branch
Caltrans, Division of Research, Innovation,
and System Information
PO Box 942873
Sacramento, CA 94273-0001
(916) 227-6259
(916) 657-4580 (fax)
sean_campbell "at" dot.ca.gov

Caltrans Project Champion:
Jeremiah Pearce, P.E.
Chief
Office of ITS Engineering and Support
Caltrans District 2
1657 Riverside Drive
Redding, CA 96001
(530) 225-3320
(530) 225-3255 (fax)
jeremiah.pearce "at" dot.ca.gov

Oregon DOT Lead:
Doug Spencer, P.E.
Standards Engineer
Intelligent Transportation Systems
Oregon Department of Transportation
2080 Laura Street
Springfield, OR 97477
(541) 747-1276
Doug.L.SPENCER "at" odot.state.or.us

WTI Contact:
Leann Koon
Research Associate
Systems Engineering, Development & Integration
Western Transportation Institute (WTI)
Montana State University - Bozeman
PO Box 174250
Bozeman, MT 59717-4250
(406) 994-7643
(406) 994-1697 (fax)
leann.koon "at" montana.edu

Past WTI Contact:
Douglas Galarus
Assistant Professor
Utah State University
4205 Old Main Hill
Logan, UT 84322-4205
(435) 797-4136
(435) 797-3265 (fax)
doug.galarus "at" usu.edu

Past WTI Contact:
David Veneziano
Program Manager I
Institute for Transportation
Iowa State University
Suite 4700
2711 S Loop Dr
Ames, IA 50010-8664
(515) 294-5480
dvenez "at" iastate.edu
---