California Oregon Advanced Transportation Systems (COATS)
For over 15 years, the California Oregon Advanced Transportation Systems (COATS) program has shown that a bi-state partnership to address rural ITS concerns is both feasible and advantageous. It allows for maximization of resources and provides a source for fresh ideas and perspectives. It provides a platform to address the issues and concerns of rural areas that might otherwise remain ignored. Numerous systems and approaches have been developed and evaluated over the years, providing useful information on which to base future deployment decisions. Several of these initial systems are still in place, addressing the concerns they were designed to. Finally, COATS has provided a platform on which to conduct expanding efforts geared toward outreach and tech transfer.

The roots of the COATS program stretch back to 1991. Caltrans recognized that there were rural concerns in dealing with advanced technologies that would evolve into Intelligent Transportation Systems (ITS). In 1995, efforts were begun to specifically examine ITS technologies in a rural context through a scoping study. This scoping study, the Program for Advancing Rural Transportation Technologies (PARTT), reviewed advanced transportation technologies, identified key issues concerning them, and developed conceptual ideas for future activities. As part of this work, a geographic area in Northern California designated a study area to refine the need and application of ITS in a rural environment. Caltrans and the Oregon Department of Transportation (ODOT) expanded the Northern California study area into Southern Oregon to maximize resources, foster cooperation, and investigate feasibility of ITS in a bi-state study area. All of these activities laid the foundation for what COATS would become.

In 1998, the Western Transportation Institute (WTI) at Montana State University, Bozeman, was selected to carry out further studies. Led by Chris Strong and Steve Albert, this effort, subsequently titled COATS, focused on ITS planning and architecture in the previously identified study area. Notably, the COATS project resulted in the development of the first two Rural Transportation Management Centers in California, one in Redding and one in Eureka. Additionally, the work resulted in deployment of an early-winner project. The specific activities of this phase of COATS, as well as subsequent phases, are outlined in the COATS project History.
---
6th Phase of COATS Project Completed
November 17th, 2016
Research Report - Data Quality for Aggregation and Dissemination of DOT Traveler Information
August 22nd, 2016
January - March 2016 Quarterly Update
May 13th, 2016
Evaluation of the Fredonyer Pass ICWS – Final Report
February 24th, 2016
October – December 2015 Quarterly Update
February 11th, 2016
July – September 2015 Quarterly Update
October 23rd, 2015
Check back soon for more California Oregon Advanced Transportation Systems (COATS) updates.
---
UPDATE: Thursday, November 17th, 2016
Recently, the project team successfully completed work on the 6th phase of the COATS project. Phase 6 focused on promoting technology transfer, investigating traveler information data quality, and evaluating the Fredonyer Pass Icy Curve Warning System. To learn more about the research and technology transfer activities described below, review the COATS Phase 6 final report or the individual project documents on the COATS Phase 6 documents page.
The Western States Forum continued to serve as a dynamic technology transfer platform, with COATS Phase 6 supporting the 10th and 11th annual Forums. Each year, the Forum has been distinguished by detailed, informative technical presentations and demonstrations that describe how actual rural ITS solutions were developed. Speakers share successes, problems, and failures so participants learn what does and doesn't work and why. Individual participation at the Forum shows its growth and success. Starting with 15 in 2006, the 2016 Forum saw a record 47 participants. And the Forum continues to attract a diverse audience. Participants in the last two Forums have come from eight different states (CA, ID, MT, NV, OR, UT, WA, WY), with Utah being a new addition to the list of participant states. Along with the eight different states, attendees represented ten of the 12 Caltrans Districts, Caltrans Headquarters and DRISI, five universities, a city transportation division, the FHWA, and the Idaho National Laboratory.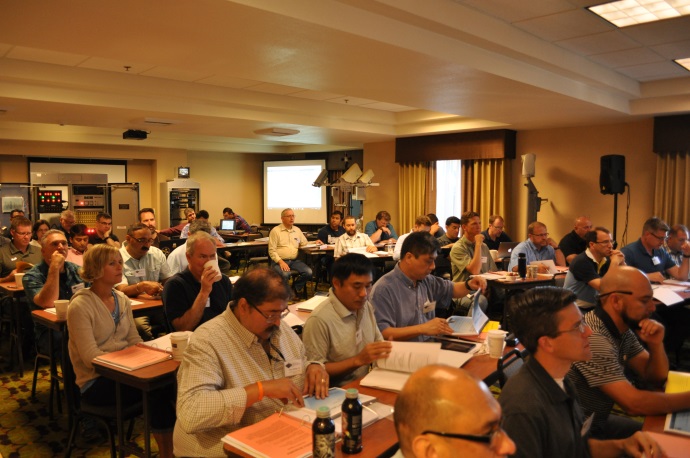 Photo by Doug Galarus
In addition to the technology transfer completed by the Forum, COATS/WSRTC Project Technical Advisory Panel (PTAP) meetings also provided an opportunity for discussion of current and future ITS activities in the region. Stakeholders were able to meet and guide planning and decision-making related to the COATS project. COATS/WSRTC PTAP members also attended and presented at the National Rural ITS Conference and the 2016 Northwest Transportation Conference. Read more in the updates from October 16, 2015, and April 15, 2016, respectively.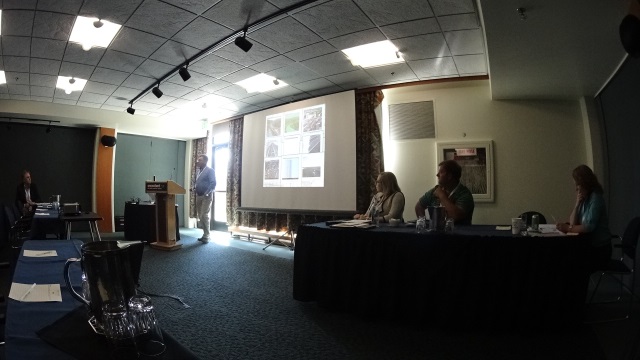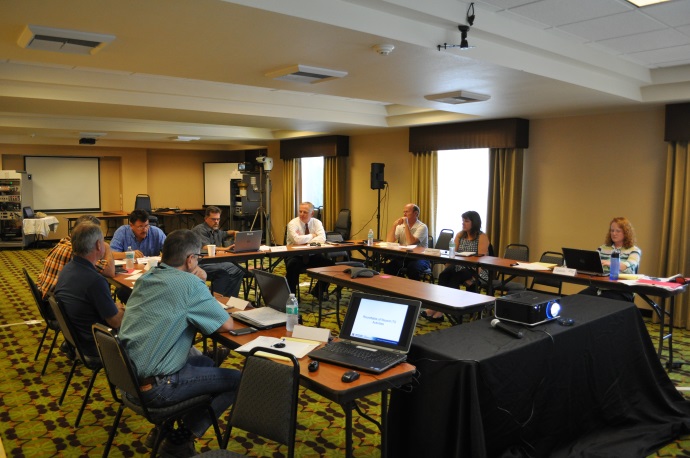 Photos by Doug Galarus
Two Incubator Projects were completed under COATS Phase 6: an evaluation of the Fredonyer Pass Icy Curve Warning System, and an analysis of existing system best practices for aggregation and dissemination of DOT traveler information.
The Fredonyer Pass Icy Curve Warning System (ICWS) is a Caltrans project designed to increase motorist vigilance and to reduce the number of crashes occurring when pavement conditions are icy. Using a combination of pavement sensors, RWIS data, and dynamically activated signage, the ICWS alerts motorists of icy conditions on the Fredonyer Pass in real-time. The dynamic warning system allows drivers to adjust their speed in preparation for road conditions further ahead, which is expected to reduce crash rates along the curves of the Pass.
For this safety/operations incubator project, the research team evaluated the effectiveness of the Fredonyer ICWS with a focus on speed reduction under various conditions and safety performance through crash reduction. The study's results suggest that the warning system is working as intended. To read the final report and review the detailed research results, click here. You can also read more about this task in the COATS project update from February 24th, 2016. The final task report is posted on the COATS Phase 6 documents page and can be found in the WSRTC's document archive.
The technology incubator project team researched and analyzed existing system best practices for data quality for the aggregation and dissemination of state department of transportation traveler information. The research team documented a number of procedures and considerations relative to disseminating quality traveler information. Results underscored how data quality is crucial to safe, efficient operation of the transportation system, including provision of traveler information that is accurate, timely, and reliable. Detailed results of the practitioner survey and the literature review conducted for this project can be found in the task report – Data Quality for Aggregation and Dissemination of DOT Traveler Information: An Analysis of Existing System Best Practices. The report can be downloaded from the COATS Phase 6 documents page and the WSRTC's document archive. You can also read more about this research task in the COATS project update from August 22nd, 2016.
Check back soon for an introduction to COATS Phase 7!
---
Caltrans Project Manager:
Sean Campbell, P.E.
Chief, ITS Special Projects Branch
Caltrans, Division of Research, Innovation,
and System Information
1227 O Street, PO Box 942873
Sacramento, CA 94273-0001
(916) 654-8868
(916) 657-4580 (fax)
sean_campbell "at" dot.ca.gov

Caltrans Project Champion:
Ian Turnbull, P.E.
Chief, Office of ITS Engineering and Support
Caltrans District 2
1657 Riverside Drive
Redding, CA 96001
(530) 225-3320
(530) 225-3299 (fax)
ian_turnbull "at" dot.ca.gov

Oregon DOT Lead:
Galen McGill, P.E.
ITS Manager
Oregon Department of Transportation
355 Capitol St. N.E.
Salem, OR 97301-3871
503-986-4486
503-986-3055 (fax)
Galen.E.MCGILL "at" odot.state.or.us

WTI Contact:
Douglas Galarus
Senior Research Associate and Program Manager:
Systems Engineering, Development & Integration
Western Transportation Institute (WTI)
Montana State University: College of Engineering
PO Box 174250
Bozeman, MT 59717-4250
(406) 994-5268
(406) 994-1697 (fax)
dgalarus "at" montana.edu

WTI Contact:
Leann Koon
Research Associate
Systems Engineering, Development & Integration
Western Transportation Institute (WTI)
Montana State University - Bozeman
PO Box 174250
Bozeman, MT 59717-4250
(406) 994-7643
(406) 994-1697 (fax)
leann.koon "at" montana.edu

Past WTI Contact:
David Veneziano
Program Manager I
Institute for Transportation
Iowa State University
Suite 4700
2711 S Loop Dr
Ames, IA 50010-8664
(515) 294-5480
dvenez "at" iastate.edu
---