California Oregon Advanced Transportation Systems (COATS)
For over 20 years, the California Oregon Advanced Transportation Systems (COATS) program has shown that a bi-state partnership to address rural ITS concerns is both feasible and advantageous. It allows for maximization of resources and provides a source for fresh ideas and perspectives. It provides a platform to address the issues and concerns of rural areas that might otherwise remain ignored. Numerous systems and approaches have been developed and evaluated over the years, providing useful information on which to base future deployment decisions. Several of these initial systems are still in place, addressing the concerns they were designed to. Finally, COATS has provided a platform on which to conduct expanding efforts geared toward outreach and tech transfer.

The roots of the COATS program stretch back to 1991. Caltrans recognized that there were rural concerns in dealing with advanced technologies that would evolve into Intelligent Transportation Systems (ITS). In 1995, efforts were begun to specifically examine ITS technologies in a rural context through a scoping study. This scoping study, the Program for Advancing Rural Transportation Technologies (PARTT), reviewed advanced transportation technologies, identified key issues concerning them, and developed conceptual ideas for future activities. As part of this work, a geographic area in Northern California designated a study area to refine the need and application of ITS in a rural environment. Caltrans and the Oregon Department of Transportation (ODOT) expanded the Northern California study area into Southern Oregon to maximize resources, foster cooperation, and investigate feasibility of ITS in a bi-state study area. All of these activities laid the foundation for what COATS would become.

In 1998, the Western Transportation Institute (WTI) at Montana State University, Bozeman, was selected to carry out further studies. Led by Chris Strong and Steve Albert, this effort, subsequently titled COATS, focused on ITS planning and architecture in the previously identified study area. Notably, the COATS project resulted in the development of the first two Rural Transportation Management Centers in California, one in Redding and one in Eureka. Additionally, the work resulted in deployment of an early-winner project. The specific activities of this phase of COATS, as well as subsequent phases, are outlined in the COATS project History.
---
Recent Updates:
Project Update 2022
November 15th, 2022
Report for the Last Half of 2021
February 25th, 2022
January – March 2021 Quarterly Update
April 30th, 2021
October – December 2020 Quarterly Update
January 29th, 2021
July – September 2020 Quarterly Update
October 26th, 2020
New Project Phase – COATS VIII
May 6th, 2020
Check back soon for more California Oregon Advanced Transportation Systems (COATS) updates.
---
UPDATE: Tuesday, November 15th, 2022
Project Update 2022

Building on the success of earlier COATS phases, COATS Phase 8 is focused on technology transfer. Tasks to be completed include two Western States Forums, Project Technical Advisory Panel (PTAP) meetings, website development and maintenance, and the Forum Handbook. Here's a summary of what's been happening with the COATS project in 2022.
The Western States Forum is a centerpiece of the COATS Phase 8 project. With a successful Forum in October of 2021, the project team immediately started preparing for the 2022 event which was held June 14-16 in Yreka, California. It was another relevant technical program with eight presentations from California, Nevada, Utah, and Washington State Departments of Transportation, along with Iowa State University and the Southwest Research Institute.

Photo by: Doug Galarus
Attendance was strong with 45 engineering professionals representing nine different states: Arizona, California, Iowa, Montana, Nevada, Oregon, Texas, Utah, and Washington. The audience consisted of engineers and technicians from five state departments of transportation, four universities, and the Southwest Research Institute. Caltrans Headquarters and Traffic Operations, Caltrans DRISI, and five Caltrans Districts sent participants. Nineteen (19) of the participants were attending the Forum for the first time; eleven have attended eight or more of the 17 events. The event evaluations consistently indicated that the Forum is successfully meeting the needs of practitioners and the Forum's goals, mission, and vision.
You will be able to read more about this year's event in future project updates. In the meantime, Save the Date (pdf) for June 13-15 in Yreka, California, for the 18th Annual Western States Forum! The Call for Abstracts will be released in the next few weeks so watch your inbox and your mailbox. Event details will also be posted on the Forum website as they become available.
Meetings
The annual WSRTC / COATS Steering Committee meeting was held in conjunction with the Western States Forum on June 14th, 2022. The meeting kicked off with an overview of the Forum – a synopsis of the technical presentations, expected attendance, and a review of the schedule of events. Some history was shared, along with updates on the Pooled Fund and associated Task Orders. While COATS Phase 8 will be the last from California, the project's work will now be conducted through the Western States Rural Transportation Consortium Transportation Pooled Fund. The meeting concluded with the traditional roundtable of ITS activities. The meeting's documents can be found on the WSRTC Documents page. Take a look at what the member states are working on to impact change and advance the state of the practice for transportation technology – June 14th, 2022, annual meeting minutes.
Here's the group at the 2022 annual meeting. Participants were there in person and virtually. Clockwise from top middle: Jim Whalen (Nevada DOT), screen with virtual participants, Sean Campbell (Caltrans DRISI, Project Manager), Jeremiah Pearce (Caltrans District 2), Tony Leingang (Washington State DOT), Doug Spencer (Oregon DOT).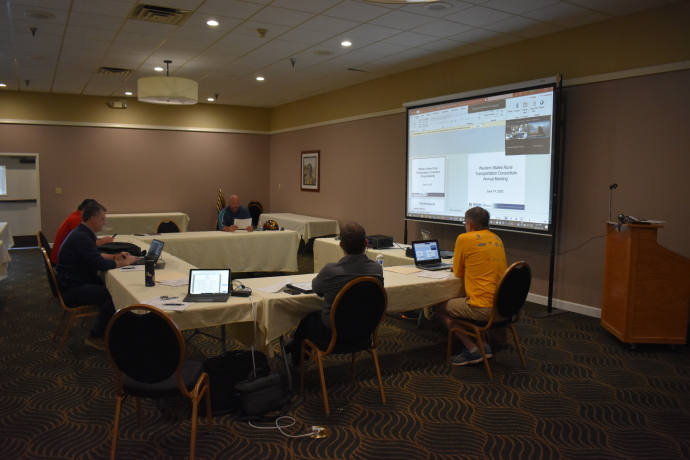 Photo by: Doug Galarus
The WSRTC / COATS group also held a virtual meeting this spring to check in and review the status of the new Pooled Fund – April 7, 2022, meeting documents. In addition to the PTAP meetings, six participants received travel support to attend the 2022 National Rural ITS Conference and ITE annual meeting this summer. The Consortium also supported four participants at the ITS World Congress held in September. For pictures and an overview of the PTAP meetings, take a look at the WSRTC update from October 26th, 2022.
Check back here for more updates on the COATS project.
---
Project Contacts:
Caltrans Project Manager:
Sean Campbell, P.E.
Chief, ITS Special Projects Branch
Caltrans, Division of Research, Innovation,
and System Information
PO Box 942873
Sacramento, CA 94273-0001
(916) 387-5166
sean_campbell "at" dot.ca.gov

Caltrans Project Champion:
Jeremiah Pearce, P.E.
Chief
Office of ITS Engineering and Support
Caltrans District 2
1657 Riverside Drive
Redding, CA 96001
(530) 225-3320
(530) 225-3255 (fax)
jeremiah.pearce "at" dot.ca.gov

Oregon DOT Lead:
Doug Spencer, P.E.
Standards Engineer
Intelligent Transportation Systems
Oregon Department of Transportation
2080 Laura Street
Springfield, OR 97477
(541) 747-1276
Doug.L.SPENCER "at" odot.state.or.us

WTI Contact:
Leann Koon
Research Associate
Systems Engineering, Development & Integration
Western Transportation Institute (WTI)
Montana State University - Bozeman
PO Box 174250
Bozeman, MT 59717-4250
(406) 994-7643
(406) 994-1697 (fax)
leann.koon "at" montana.edu

Past WTI Contact:
Douglas Galarus
Assistant Professor
Department of Computer Science
Montana Tech
Museum 202
1300 West Park Street
Butte, MT 59701
(406) 496-4858
dgalarus "at" mtech.edu

Past WTI Contact:
David Veneziano
Program Manager I
Institute for Transportation
Iowa State University
Suite 4700
2711 S Loop Dr
Ames, IA 50010-8664
(515) 294-5480
dvenez "at" iastate.edu
---