Professional Capacity Building (PCB) for Communications Update - August 24th, 2012
---
UPDATE: Friday, August 24th, 2012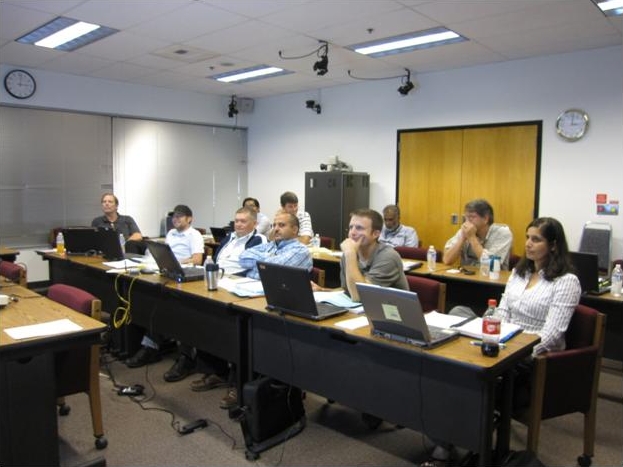 Photo by Leann Koon
As mentioned in our previous project update (PCB, January 9, 2012), the content focus for Phase 2 of the PCB for Communications project is plant wired technologies. To better facilitate training for Caltrans ITS engineers, we divided the topics into two sections. One section includes the topics of plant wired core/plant wiring basics, serial connectivity, and xDSL. The second section concentrates on optical fiber. The use of optical fiber (high speed communication using glass fiber and light) for rural ITS communications is garnering wider interest as this technology becomes a more viable alternative.
A course in fiber optic communications is scheduled for September 24-28, 2012, at the Sacramento Regional Transportation Management Center in Rancho Cordova, California. Students will be Caltrans ITS engineers that deploy and maintain ITS systems in the rural areas of their districts. The five day course will address both design and installation principles for optical fiber communications. The course will be an intense, hands-on, in depth training with practical applications.
To get a sense of the scope of the training, here are the learning objectives for the course:
Technically explain the fundamental principles and operation of optical fiber, including but not limited to fiber types, data rates and optical carrier requirements, and connectivity options.
Ascertain when and where optical fiber technology can be used effectively.
Define the most efficient and effective fiber path taking into consideration such variables as the number of access points and whether the system is buried (preferred) or a pole system.
Calculate a link budget.
Describe and design different fiber topology options.
Establish equipment requirements for proper installation and effective operation of optical fiber communication systems.
Select the appropriate fiber type for the application (i.e., single versus multimode, number of strands).
Successfully install and configure necessary equipment, for example, Ethernet fiber media converters that convert a digital signal to/from an optical signal.
Explain and demonstrate the issues, challenges, and appropriate methods for fusion fiber splicing.
Functionally describe the various methods of connectorization, identify appropriate connector types for specific applications, and explain the advantages and disadvantages for each.
Discuss and demonstrate splice case methods and issues associated with underground and aerial applications (e.g., use of mechanical splices and connectors as a temporary "make-good").
Productively utilize optical fiber equipment (e.g., identify and specify receiving media converter).
Select and operate appropriate test equipment for troubleshooting, for example, determining the location of fiber cuts using an Optical Time Domain Reflectometer (OTDR).
Maintain and repair the system and equipment according to system provider and/or Caltrans guidelines. Develop and demonstrate a working knowledge and skill set for tasks such as fiber splicing.
Assess and compare the pros and cons of common alternatives.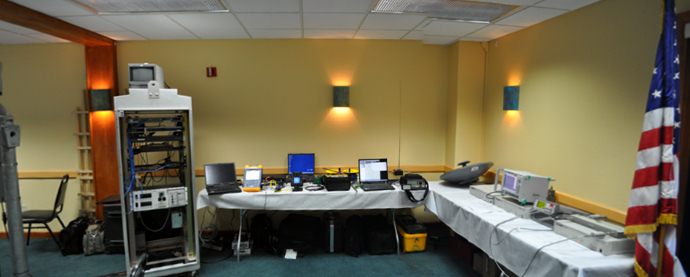 Photo by Doug Galarus
The Western States Forum is another opportunity for rural ITS engineers to learn about ITS communications deployments in rural areas. Forum participants are able to network with other ITS engineers to learn what kind of equipment is used and how it is deployed in other parts of the Consortium region. Some fiber optic communications equipment on display at a previous Forum is pictured above.
Check back later for a report on the fiber optics training and what's next for the PCB for Communications project.
---