WSRTC Update - September 13th, 2010
---
UPDATE: Monday, September 13th, 2010
You may have noticed that Sean Campbell from Caltrans Division of Research & Innovation is the Project Manager for several of the projects described on this website. He is also a member of the Research Advisory Committee (RAC) for WTI. In July, Sean visited WTI to attend the annual RAC meeting and also spent some time meeting with the research teams for several different projects.
The Automated Safety Warning Controller project is moving into the second phase. The WTI Controller project team talked with Sean about preparing for continued pilot testing during the upcoming bad weather season. Sean introduced the possibility of a few new test sites and WTI outlined software changes and system improvements that will be made before the next pilot test. Click here to check out the latest activities with the Controller project.
One Stop Shop (OSS) , ICM , WeatherShare , and Integration of Aviation AWOS with RWIS, are all web-based applications sharing similar platforms. Improving performance of these applications is a key as more and more people begin to use the sites. Sean met with the WTI project team for a technical discussion on how to improve and optimize the content delivered through the OSS web application which includes our projects with similar platforms. He also explained some of the methods that he has recently worked with for improving web content delivery. See the OSS project page for the latest information.
The Western States Rural Transportation Consortium, COATS, and the Western States Forum were also important meeting topics. Check back soon for more information on COATS and Consortium projects as well as details on the 2011 Western States Forum.
Thanks, Sean, for providing guidance for these projects and playing an active role on the Research Advisory Committee!
Here's a picture of Sean Campbell meeting with Leann Koon at the 2010 Western States Forum in Yreka: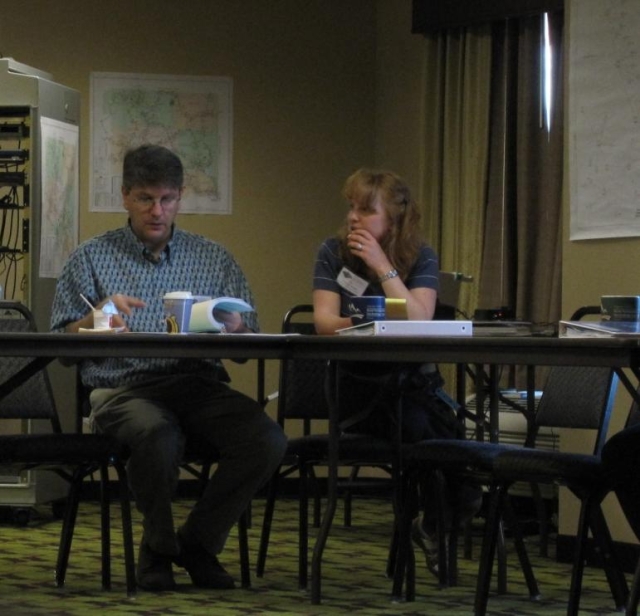 Photo by Jon Koon
---